Glass Packaging Market: Overview
According to the report published by Zion Market Research, the Global demand for Glass Packaging Market was valued at approximately USD 95,337.5 Million in 2019 and is expected to generate revenue of around USD 126,074.2 Million by end of 2026, growing at a CAGR of around 4.1% between 2020 and 2026.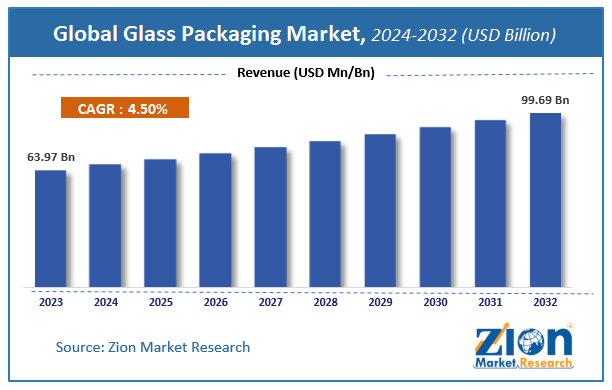 Request Free Sample
Packaging is defined as a system of enclosing products and preparing goods for long-distance transportation, distribution, storage, and delivery to consumers. Glass is the most chosen packaging material for beverages and foods, pharmaceuticals, and personal care products. It maintains the quality and flavor of the food products without affecting their taste. Its high-quality characteristics such as reusability, chemical inertness, sterility, transparency, corrosion, and heat resistivity make it eligible for diversified application. The size, shape, and color can be achieved through various molding processes depending on the end application.
Glass Packaging Market: Growth Factors
A significant change in lifestyle and increasing health consciousness among consumers are the factors driving the demand for products such as juices and drinks or functional drinks, which indirectly raises the demand for glass packaging. The wide application of glass packaging in pharmaceuticals industries in terms of drug delivery without contamination as well as its anti-corrosive property and high sterilization strength also makes it applicable in the medical industry. The Huge demand for alcoholic drinks, which are majorly packed in glass bottles in various quantities, is one of the major factors responsible for driving the growth of the glass packaging market. Moreover, the rising population and high consumption of food and beverages, as well as various FMCG products by consumers, are driving the glass packaging market globally. On the other hand, the development of various alternatives such as plastic with similar properties may restrain the growth of the glass packaging market in the future.
Glass Packaging Market: Segmentation
On the basis of the type of materials, the global glass packaging market is segmented as sand, sodium carbonate (soda ash), calcium carbonate (limestone), and cullet. In addition, to enhance or for recognition of the products, a small amount of metal composition is added in order to colorize or decolorize the product. Hence, on the basis of this metal composition, the global market is segmented as iron pyrite, iron oxide, cobalt oxide, and selenium. The end-products of the glass packaging are bottles and jars. Based on the end-user application, the global market is further classified into food, beverages, personal care, pharmaceuticals, alcoholic, and medical industries.
Glass Packaging Market: Regional Analysis
Geographically, Asia Pacific is anticipated to be the largest market for glass packaging and is also projected to grow in coming years owing to the increasing consumption of food and beverages and the rising trend of consuming alcoholic drinks. Europe is estimated to grow rapidly due to technological developments and high consumption of beer along with rising industrialization majorly in France and Germany. Moreover, North America and the Middle East are anticipated to grow at a steady pace owing to rising pharmaceutical industries in these regions.
Glass Packaging Market: Competitive Players
Some main participants of the Glass Packaging Market are CVC Capital Partners, Amcor, Ardagh Group, Gerresheimer, Koa Glass, Owens Illinois Inc., Saint Gobain, Heinz Glass, BA Glass, Weigand Glass, Vidrala SA, Nihon Yamamura, China Glass Holding Limited, Consol Glass Limited, Stolzle-Oberglas GmbH, Piramal Glass Limited, and Tamron Co., Ltd.
Glass Packaging Market: Regional Segment Analysis
North America
Europe

France
The UK
Spain
Germany
Italy
Rest of Europe

Asia Pacific

China
Japan
India
South Korea
Southeast Asia
Rest of Asia Pacific

Latin America

Brazil
Mexico
Rest of Latin America

Middle East & Africa

GCC
South Africa
Rest of The Middle East & Africa