Analysis
Rare earth metals are a group of chemical elements that are found in the Earth crust with an atomic number ranging from 57 to 71. Rare earth metals are crucial to various modern technologies, including clean energy, consumer electronics, computers and networks, advanced transportation, communications, healthcare, environmental mitigation, national defense, etc. Due to their exceptional luminescent, electrochemical, and magnetic attributes, rare earth metals aid in many applications, such as reducing weight, emissions, and energy consumption. The products made from rare earth elements possess greater efficiency, performance, speed, miniaturization, thermal stability, and durability as compared to products made from other metals.
The global rare earth metals market is likely to experience notable growth in the future. In 1990, China became the largest and dominant producer of rare earth metals globally, due to the increasing demand and escalating adoption of rare earth metals in the magnet industry. With technological advancements, rare earth metals are gaining acceptance in the field of consumer goods. For instance, Neodymium is popularly used in smartphones, lasers, televisions, hard drives, and rechargeable batteries. Additionally, Tesla, a key automobile industry player, is set to launch an upcoming version of Tesla's electric car that is also expected to utilize neodymium. Furthermore, the growing exploration activities in un-mined regions across the globe are likely to foster market development in the upcoming years. The renewable energy sector is the biggest consumer of rare earth metals. Permanent magnets from neodymium are widely used in wind turbines. However, the price volatility of raw materials may hamper market growth in the future.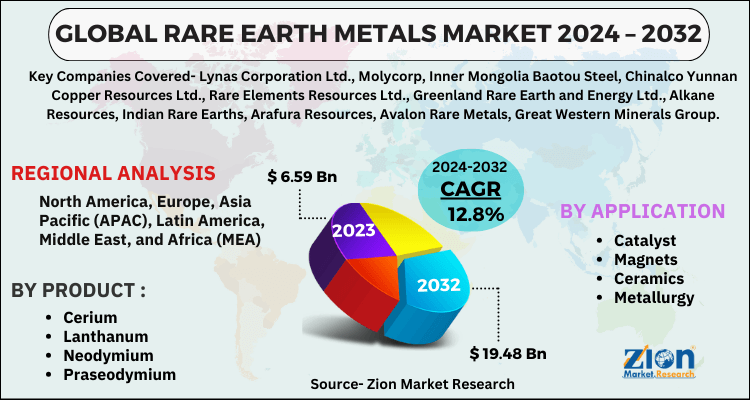 By product, the rare earth metals market is segmented into cerium, lanthanum, neodymium, praseodymium, and others. By application, the market is categorized into catalyst, magnets, ceramics, metallurgy, and others.
By region, Asia Pacific contributed an extensive revenue share in the global rare earth metals market in 2018 and is expected to continue with its regional authority in the upcoming years as well. This can be attributed to the growing production of rare earth metals across the region. China is the biggest producer of rare earth metals followed by India. North America is expected to provide significant opportunities for the global rare earth metals market, owing to the growing adoption of rare earth metals in various technological applications and the rising need for rare earth metals in electronic devices.
Some key players of the rare earth metals market are Lynas Corporation Ltd., Molycorp, Inner Mongolia Baotou Steel, Chinalco Yunnan Copper Resources Ltd., Rare Elements Resources Ltd., Greenland Rare Earth and Energy Ltd., Alkane Resources, Indian Rare Earths, Arafura Resources, Avalon Rare Metals, Great Western Minerals Group, Rare-Earth Hi-Tech Co, and China Rare Earth Holdings.