Zinc Chemical Market Size & Industry Analysis:
The global zinc chemical market size was worth around USD 9.5 billion in 2021 and is predicted to grow to around USD 12.49 billion by 2028 with a compound annual growth rate (CAGR) of roughly 4.3% between 2022 and 2028. The report analyzes the global zinc chemical market drivers, restraints/challenges, and the effect they have on the demands during the projection period. In addition, the report explores emerging opportunities in the zinc chemical market.
Zinc Chemical Market: Overview
Zinc is a chemical that is symbolized by Zn and exhibits an atomic number of 30. At room temperature, zinc acts as a slightly brittle metal displaying an appearance of shiny gray once the oxidation is removed. In the periodic table, group 12, is the first element. When considering certain properties, zinc and magnesium show great similarities.
For instance, both the chemical elements have just one oxidation state, and ions of Mg2+ and Zn2+ are the same in size. Zinc is one of the most abundantly found elements in Earth's crust standing at the 24th position and it also offers five isotopes that are stable. Sphalerite is one of the most commonly found zinc ore, which is a mineral falling in the zinc sulfide range. Zinc is most abundantly found in regions like Asia, Australia, and the United States. For refining extracted zinc, market players use the process of froth flotation involving the ore.
Key Insights
As per the analysis shared by our research analyst, the global zinc chemical market is estimated to grow annually at a CAGR of around 4.3% over the forecast period (2022-2028)
In terms of revenue, the global zinc chemical market size was valued at around USD 9.5 billion in 2021 and is projected to reach USD 12.49 billion, by 2028. Due to a variety of driving factors, the market is predicted to rise at a significant rate
Based on application segmentation, paints & coatings were predicted to show maximum market share in the year 2021
Based on product type segmentation, zinc oxide was the leading type in 2021
On the basis of region, Asia-Pacific was the leading revenue generator in 2021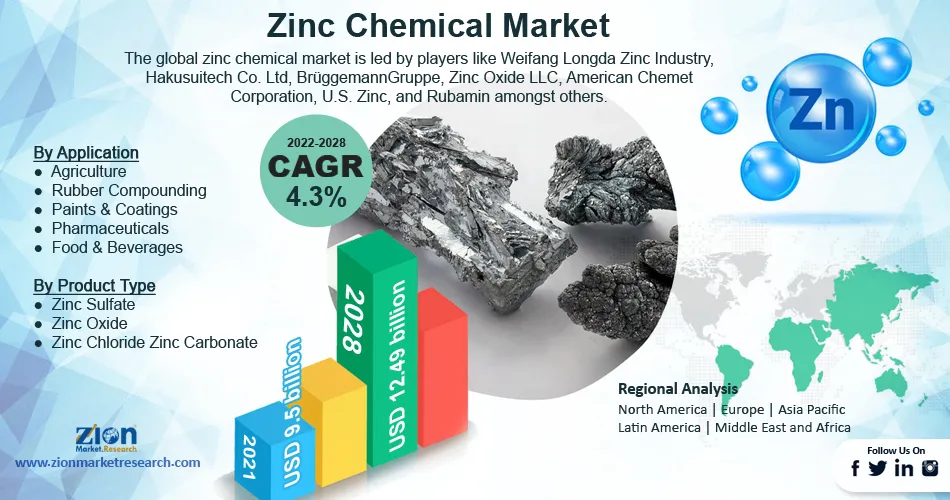 Request Free Sample
To know more about this report, request a sample copy.
Zinc Chemical Market: Growth Drivers
Wide applications as a protective measure against corrosion to propel market growth
The global zinc chemical market is anticipated to grow due to the increasing demand for zinc as an anti-corrosion agent owing to its high-performance index. Corrosion describes the natural process through which a refined metal gets converted into an oxide that is more chemically stable. It causes degradation of material quality and is a gradual process. Businesses dealing in structures made of metal spend large amounts on protecting the structure from undergoing corrosion as it can severely impact the performance quality of the unit over time leading to high economic loss.
The oil & gas industry which boasts of some of the largest metal structures is known to lose over USD 6.95 billion in preventing, maintaining, or replacing the large assets that are affected by corrosion. Hence zinc is used as a protective layer over iron or steel since it corrodes faster than these two materials acting as a sacrificing chemical. Due to the high reactivity of the chemical, it attracts most of the oxidation until it is completely corroded.
Zinc Chemical Market: Restraints
Harmful health effects to restrict the market growth
As per the New Jersey Department of Health and Senior Services, zinc oxide is classified as a health hazard that acts as a major barrier to further global market growth. The chemical can have serious implications if breathed in and is known to cause metal fume fever which is an illness like the viral flu with symptoms including headache, constant metallic taste in the mouth, cough, and chest tightness to name a few.
Zinc Chemical Market: Opportunities
Application in the electronics industry to provide more growth scenarios
Zinc is gaining popularity as an anode material in the electronics industry to be used in batteries owing to its standard electrode potential of -0.76 volts. In a zinc-air battery or fuel cell, the chemical is used as an anode, whereas a zinc-cerium redox flow battery functions on a negative half-cell that is based on zinc. In alkaline batteries, powdered zinc is highly preferred. Since the electronic sector is anticipated to grow at a high CAGR owing to increasing demand from end-consumers due to factors like increasing disposable income, globalization, and modernization, the demand for zinc may grow simultaneously.
Zinc Chemical Market: Challenges
Concerns associated with alkaline zinc-air batteries to pose a major challenge
Although alkaline zinc-air batteries have the potential of becoming high-grade energy storage devices, they currently lack a significant adoption rate in the commercial segment since zinc electrodes are known to register multiple problems like dendrite growth, hydrogen evolution reaction, and passivation. This is one of the major challenges the global zinc chemical market players have to deal with to increase the application range of zinc chemicals since the compound in itself has various futuristic applications.
Zinc Chemical Market: Segmentation
The global zinc chemical market is segmented based on application, product type, and region
Based on application, the global market segments are agriculture, rubber compounding, paints & coatings, pharmaceuticals, and food & beverages. The global market witnessed the highest growth in the paints & coatings market and the same trend is expected in the future. The high CAGR is attributed to the increasing application of zinc in products that are applied as protective coatings over materials that undergo corrosion. Paints that are rich in zinc contain up to 85% to 92% or pigments of zinc metal that subsequently act as excellent anti-corrosion agents. These paints are known to create a barrier of metallic zinc and provide cathodic protection to iron or steel that lies beneath.
Based on product type, the global market is divided into zinc sulfate, zinc oxide, zinc chloride, and zinc carbonate. Currently, the market registers the highest revenue from zinc oxide due to the versatility of the chemical. It has a preferred chemical when manufacturing personal care cosmetics items. It also protects the skin from acne, while controlling excess oil, sun damage, and bacterial infection protection, amongst others. As per the Food and Drugs Administration, zinc oxide can be used up to a concentration of 25% in cosmetics products since this quantity is regarded as safe to use.
Recent Developments:
In November 2021, Gelion PLC, a leading provider of energy-storage solutions, announced that the company's research wing is working on the development of zinc bromide batteries that act as longer and safer storage units as compared to their counterparts
In October 2021, a global provider of Zinc and related compounds, Zinc National, announced the company's intention to expand production capability by upgrading the already functioning unit in Mexico. The company plans to cater to the needs of industries like a lubricant, chemical, rubber, and tire
Zinc Chemical Market Report Scope:
Report Attributes
Report Details
Report Name
Zinc Chemical Market Research Report
Market Size in 2021
USD 9.5 Billion
Market Forecast in 2028
USD 12.49 Billion
Compound Annual Growth Rate
CAGR of 4.3%
Number of Pages
195
Forecast Units
Value (USD Billion), and Volume (Units)
Key Companies Covered
Weifang Longda Zinc Industry, Hakusuitech Co. Ltd, BrüggemannGruppe, Zinc Oxide LLC, American Chemet Corporation, U.S. Zinc, and Rubamin amongst others.
Segments Covered
By Application, By Product Type and By Region
Regions Covered
North America, Europe, Asia Pacific (APAC), Latin America, Middle East and Africa (MEA)
Countries Covered
North America: U.S and Canada
Europe: Germany, Italy, Russia, U.K, Spain, France, Rest of Europe
APAC: China, Australia, Japan, India, South Korea, South East Asia, Rest of Asia Pacific
Latin America: Brazil, Argentina, Chile
The Middle East And Africa: South Africa, GCC, Rest of MEA
Base Year
2021
Historical Year
2016 to 2020
Forecast Year
2022 - 2028
Customization Scope
Avail customized purchase options to meet your exact research needs. Request For Customization
Zinc Chemical Market: Regional Analysis
Asia-Pacific to dominate with the highest market share
The global zinc chemical market is projected to be dominated by Asia-Pacific due to the expanding electronics sector of countries like Japan, India, Singapore, Taiwan, and China. The increasing spending capacity aided by the growing population and demand for electronic items may drive regional market growth.
Other industries that could lead to higher consumer numbers are the agriculture and chemical processing industries along with the rubber processing sector. Since the 1960s, China's production of natural rubber has increased by a heavy number. In 2020, China was responsible for more than 4.9% of the global natural rubber market. One of the key contributors could also be the pharmaceutical sector of India, which has been progressing at a fast pace. The Indian pharmaceutical sector holds a value of USD 49.9 billion and is a major supplier of generic medicine to the United Kingdom and Africa.
Zinc Chemical Market: Competitive
The global zinc chemical market is led by players like Weifang Longda Zinc Industry, Hakusuitech Co. Ltd, BrüggemannGruppe, Zinc Oxide LLC, American Chemet Corporation, U.S. Zinc, and Rubamin amongst others.
The global zinc chemical market is segmented as follows:
By Application
Agriculture
Rubber Compounding
Paints & Coatings
Pharmaceuticals
Food & Beverages
By Product Type
Zinc Sulfate
Zinc Oxide
Zinc Chloride Zinc Carbonate
By Region
North America
Europe

France
The UK
Spain
Germany
Italy
Rest of Europe

Asia Pacific

China
Japan
India
South Korea
Southeast Asia
Rest of Asia Pacific

Latin America

Brazil
Mexico
Rest of Latin America

Middle East & Africa

GCC
South Africa
Rest of Middle East & Africa