Free Analysis
Power rental is referred as plant hire, which provides machinery, power equipment, and tools of all kinds and sizes for a short and long period of time to final users. Power on rent can deliver complete operating power packages as well as provide scalable components within large power station installations to various industrial applications. An extensive fleet of industrial rental power covers a broad range of applications in coal-fired, natural gas-fired, nuclear and cogeneration plants. Power rental services offer a quick and cost-effective response to planned and emergency outages for a limited period of time.
The power rental market is mainly driven by increasing power consumption, development of power infrastructure, and increasing construction & development across the globe. Furthermore, increasing demand for power from oil & gas industry is also a major driving force of the power rental market. However, the presence of stringent regulations coupled with rising environmental awareness may curb the market growth in the near future. Nonetheless, increasing demand for power in emerging economies is expected to open up new growth avenues for the power rental market in the years to come.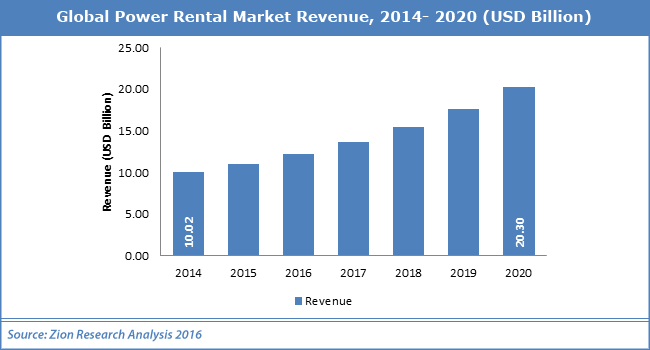 The power rental market is segmented on the basis of different end-user such as oil & gas, industrial, construction, and others. The industrial segment accounted for a large chunk of the market share in 2014. Construction is another key outlet of power rental market and it held over 20% share of the overall market in 2014. This growth is mainly attributed to growing infrastructural development in the emerging economies.
Some of the key applications of the power rental market include peak shaving, base load/continuous power and standby power. Base load/continuous was largest application segment with 45.56% of the global revenue and is expected to show a significant rise in light of the increasing demand from various sectors such as oil & gas, mining and construction and others. These sectors require a continuous supply of power by renting power equipment as the operational activities of these sectors usually take place far off from the power grid which in turn is expected to drive the demand for the power rental market. Peak shaving is another leading application segment owing to rising awareness among energy-intensive industries in order to control the charged over high energy demand during peak hours. Standby power was accounted for over 20% share of the total market and is anticipated to show moderate growth in the years to come owing to various regulations implemented by EPA and Greenpeace which are expected to minimize standby power consumption.
The power rental market was dominated by the Middle East & Africa with the largest share of the total market in 2014. This growth is mainly due to the growing construction and developmental activities in this region. Furthermore, North America was another leading regional market 21.32% share of total revenue generated in 2014. With increased government support coupled with increasing infrastructure, Asia-Pacific is expected to witness significant growth during 2014 to 2020. However, Latin America is also expected to exhibit significant growth over the forecast period.
Some of the key players include in power rental market such as Atlas Copco, United Rental, Cummins Inc, APR Energy Inc, Caterpillar Inc and Power Electrics.