Analysis
The insides of one's body can be examined via ultrasound imaging. This technology uses sound waves that help to produce images of the body's internal organs. This has various applications, such as the diagnosis of pain, infection, and swelling of the internal organs. It can also be used to analyze the functioning of hips and brains of young children and fetus. In major heart conditions, such as heart attack or certain complex biopsies, the ultrasound imaging system is highly effective. These systems have been made portable in the last few years. Since the devices are constantly available, it eliminates stress and anxiety of patients and reduces waiting time.
The portable ultrasound devices market is driven by the device's ability to instantly diagnose diseases that result in not requiring any kind of ICU and emergency room facilities. Additionally, higher patient convenience, less patient involvement, and quicker real-time imaging have resulted in the reducing vulnerabilities for patients, which is also fuelling the portable ultrasound devices market growth. However, the rising costs of these systems, lack of training provided to medical professionals, and dependency on ambulatory patient care may limit the portable ultrasound systems market development in the years ahead.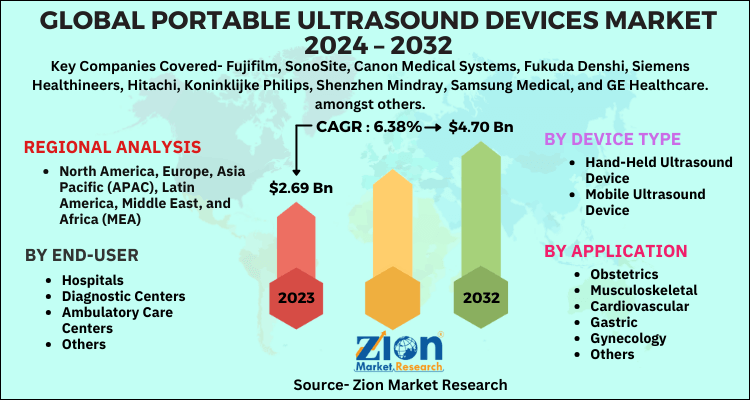 The portable ultrasound devices market is divided based on application, device type, and end-user. By device type, the market is divided into hand-held and mobile ultrasound devices. The application segment of the portable ultrasound devices includes obstetrics, cardiovascular, musculoskeletal, gynecology, gastric, and others. Based on end-user, the global market comprises diagnostic centers, ambulatory care centers, hospitals, and others.
North America is the most prominent player in this portable ultrasound devices market globally, due to huge government funding, improved technological advancements, and advanced health infrastructure. There are also health policies that are easily implementable, such as reimbursements and health insurance, which has greatly strengthened the portable ultrasound devices market over the last few years. The European portable ultrasound devices market is likely to grow notably in the future, owing to rising cases of ear infections and consistent technological developments for diagnosis of various infections. These technologies require the use of portable ultrasound devices, which has resulted in an increase in the number of companies producing portable ultrasound devices for disease diagnosis and treatment. The Asia Pacific region will register a significantly high CAGR in the portable ultrasound devices market globally in the future, owing to the increasing healthcare expenditure by patients and wide availability of these devices are in various medical centers like hospitals, specialty clinics, and nursing facilities.
Some key players of the portable ultrasound devices market are Fujifilm, SonoSite, Canon Medical Systems, Fukuda Denshi, Siemens Healthineers, Hitachi, Koninklijke Philips, Shenzhen Mindray, Samsung Medical, and GE Healthcare.