Analysis
Polyphenylene sulfide or PPS is an organic polymer that contains sulfide elements. It has excellent properties, such as chemical resistance, high-temperature resistance, dimensional stability, flowability, etc. Polyphenylene sulfide is filled with fillers and fibers to overcome its inherent brittleness.
The global polyphenylene sulfide market is likely to grow considerably over the estimated timeframe, owing to the rapidly expanding automobile industry across the globe. Polyphenylene sulfide is widely used in automobiles, owing to its high-temperature resistance characteristics. This polymer also exhibits high flame and fuel resistance, which makes it suitable for various automobile parts. Moreover, the rising demand for filter bags in dust chamber filters and coal boilers is likely to further fuel the polyphenylene sulfide market in the future. However, the availability of substitutes, such as PEEK (polyether ether ketone) and PEI (polyetherimide), and the fluctuating prices of raw materials of polyphenylene sulfide might hamper the polyphenylene sulfide market growth on a global scale. Conversely, the growing focus on the production of bio-based engineering plastics is projected to offer lucrative growth opportunities for the polyphenylene sulfide market players in the future.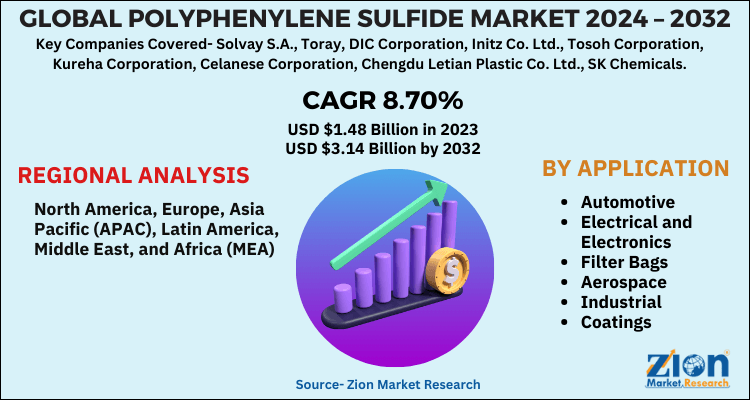 The global polyphenylene sulfide market is segmented on the basis of the application. The application segmentation of this global market includes aerospace, electrical and electronics, coatings, automotive, filter bags, industrial, and others. The automotive sector is the largest market contributor and is projected to maintain its dominance in the future as well. In the year 2017, the automotive segment held about 30% share of the global polyphenylene sulfide market. Additionally, the electrical and electronics sector is expected to grow at the fastest rate in the future, owing to the growing demand for electrical components and appliances globally.
By region, the global polyphenylene sulfide market includes North America, Europe, Asia Pacific, Latin America, and the Middle East and Africa. In 2017, the Asia Pacific region held the largest share and is expected to continue its dominance over the next few years as well. The Asia Pacific polyphenylene sulfide market witnessed a high polyphenylene sulfide demand due to the region's growing automotive industry. China is projected to be the highest regional revenue contributor among all the nations in the region, due to its thriving automobile and electrical industries. China is emerging as one of the major manufacturers of electrical and electronic products. This, in turn, is likely to further propel the polyphenylene sulfide market across the region in the future.
Some key manufacturers of the global polyphenylene sulfide market are Solvay S.A., Toray, DIC Corporation, Initz Co. Ltd., Tosoh Corporation, Kureha Corporation, Celanese Corporation, Chengdu Letian Plastic Co. Ltd., SK Chemicals, Albis Plastic GmbH, and SABIC, among others.