Analysis
Plumbing fixtures are the replaceable device that is connected with plumbing system to deliver and drain water. These products have developed over time along with other products in the plumbing industry. Fixtures have enhanced drastically in past few decades in terms of style, material, and color. Various types of fixtures are available in the market that includes urinals, showers, channel drains, drinking fountains, and bathtubs. Regional governments are introducing various standards pertaining to the effective operation & design of plumbing fixtures. Both the design and material of the product is subjected to certifications and standards that are required to ensure integrity and safety.
Rising drought-like conditions coupled with conventional water distribution system and sewer system is impelling construction professionals to opt for alternative methods for water conservation. This can be carried out through the installation of plumbing fixtures, leading to less water consumption. Furthermore, the demand for these fixtures is primarily driven by strengthening construction industry. The growth of plumbing industry would be supported by new design trend and rapid house completions that demands an increased number of kitchens and bathrooms. Commercially, demand for these fixtures is enticed by increasing infrastructure of bathroom intensive structures that includes hotels, hospitals, and offices. These factors would propel plumbing fixtures market over the forecast timeframe. However, producers are facing the challenge of designing the product by complying with various materials standards used in the manufacturing of the products.
Major trends in global plumbing fixtures market are innovation in the design of the product to attract customers for product usage and utilization of sensor-based fixtures to provide aesthetics, personal comfort, germ-free bathing, and performance. As per "Real Capital Analytics (RCA)", the global volume of completed commercial properties sales was USD 873 billion in 2017. This has registered an 8% rise in Europe and 6% in the Asia Pacific offsetting the decline of the U.S, world's biggest commercial real estate investing market.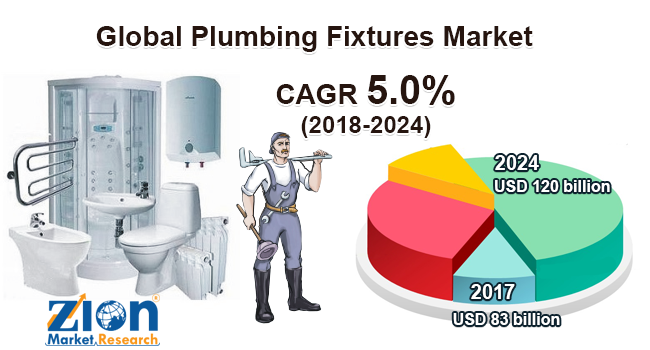 Global plumbing fixtures market is categorized on the basis of the product as a toilet, sink, showers, bathtub, and others. The toilet segment is anticipated to generate substantial revenue in global plumbing fixtures market owing to trending touch-free toilets and bathroom for aesthetics and comfort. Various applications pertaining to global plumbing fixtures market are residential and commercial. Advancements in toilets majorly sensor-operated valves and heated seats will drive global plumbing fixtures market in the residential applications. On the basis of material, global plumbing fixtures market is categorized into plastics, metal, and vitreous China. Metal is projected to account for a substantial share in global plumbing fixtures market due to its strong and tough characteristics.
The Asia Pacific is projected to hold a substantial share in revenue generation of global plumbing fixtures market owing to high population and identity as a major manufacturing hub offering production opportunities at reasonable costs to manufacturers.
Global key producers in the global plumbing fixtures market are MAAX Bath Inc., Elkay Manufacturing Company, Roca Sanitario, S.A., TOTO Ltd, Fortune Brands Home & Security, Inc., LIXIL Group Corporation, Masco Corporation, Jacuzzi Inc., Kohler Co., and Geberit AG.