Free Analysis
Cart is the vehicle generally used to transport materials and can be used as both as transportation and storage units. The carts consist of two rigid and swivel casters for flexibility. Carts are manufactured using black powder coat finish with strong gauge structure steel tubing. Designs and materials used for cart production vary depending on the end user application. Platform carts are used to give support for nonpalletized loads and also utilized in skid handling. Platform carts comprise higher lifting capacity as compared to the fork trucks.
Surging demand in rail transportation, use of carts on platforms and bus stations for transporting the luggage are driving the growth of platform carts market. Escalating market of hotels, cafes, and supermarkets, results in the growth of the platform trolley demand. Rapid urbanization, increasing population, escalating number of international airport, hotels and hospitality have lead to increased demand for platform carts globally. Cost effectiveness and convenience compared to the conventional transporting method is the key factor that triggers the growth of platform carts market. Technological advancement in platform carts with superior specializations is likely to open new opportunities for the platform carts market. Increasing demand from the emerging economies is expected to stimulate the growth of platform market.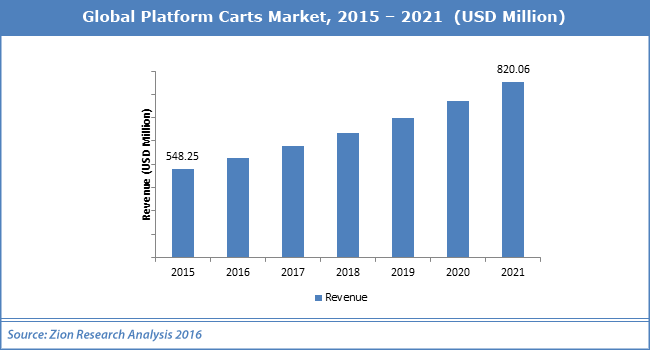 Platform cart, platform storage & transport carts, working platform and others are the general types of carts. Various platform trucks are available in the market with a wide range of characteristics and operations such as wood platform trucks, aluminum platform trucks, steel platform trucks, plastic platform trucks, U-boat platform trucks.
With 32% of total market share, North America dominated the platform cart market in 2014. This was mainly contributed by a large number of airports, railway stations and established supermarket chains in U.S. Asia Pacific is anticipated to show high growth potential for platform cart market owing to growing travel and retail sector in this region.
The presence of multiple players in the market causes price competitiveness, forcing companies to offer bundled services to differentiate their offerings. The key players in the platform market include AGAB Pressautomation, CADDIE, Emmegi Group, i-lift Equipment, Off., Giovanelli S.a.s, Quantum Storage Systems, Rubbermaid Commerical Products LLC, and SALL S.r.l among others.