Free Analysis
Plant-based meat is anything that mimics traditional meat but is made entirely using plant ingredients. It is mainly consumed by vegetarians and vegans. Fake meat has evolved into a popular trend on menu card at large. Attempts to create plant-based substitutes for meat have been made since the days of tofu. Despite the rising awareness of inefficiencies associated with the livestock production and other harmful effects of animal agriculture at the industrial-scale, the world is likely to consume more meat per capita this year than ever before. This is a major factor boosting the plant based meat market globally. Companies have come up with different substitutes to ensure that there is sufficient meat supply in the future and cater to the vegetarian or vegan population simultaneously.
The growing concerns regarding the environmental impact and sustainability of the meat industry are the major growth driver of the global plant based meat market. The growing concerns regarding the sustainability of livestock production, meat availability, and change in food preferences have led to many people opting for meat substitutes. This has immensely benefitted the plant based meat market globally. In addition, the science behind making plant based meat has also improved and allowed manufacturers to experiment and come up with the perfect meat substitute. The changes in manufacturers' outlooks along with more emphasis being placed on manufacturing plant based meat are also boosting the global plant based meat market. However, high production cost and difficult product availability may restrain the plant based meat market globally. Considering the change in food preferences and growing advancements made in the food industry, numerous opportunities for market growth are expected in the future.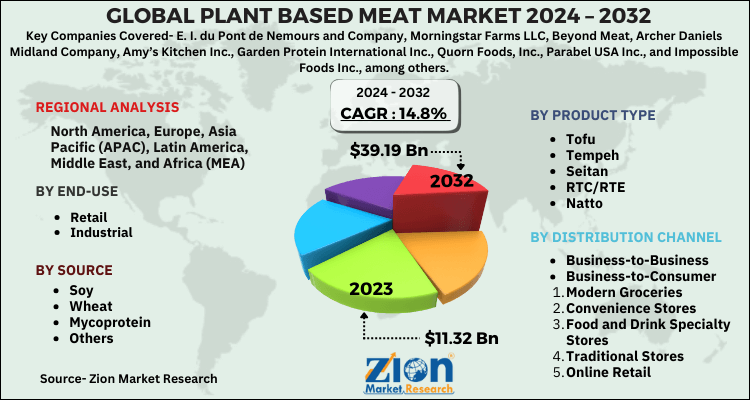 On the basis of product type, the market is segmented into tofu, seitan, RTC/RTE, tempeh, and natto. By source, the market is divided into mycoprotein, soy, wheat, and others. Based on end-user, the market is bifurcated into retail and industrial. The distribution channel segment comprises of business-to-business and business-to-consumer (convenience stores, traditional stores, food & drink specialty stores, modern groceries, and online retail).
By region, Asia Pacific is expected to hold a major share of the global plant based meat market in the future, owing to the growing preference for plant based substitutes, such as tofu and tempeh across various Asian countries like China and India. North America held a significant share of the global plant based meat market in 2018.
Some major players of the global plant based meat market are E. I. du Pont de Nemours and Company, Morningstar Farms LLC, Beyond Meat, Archer Daniels Midland Company, Amy's Kitchen Inc., Garden Protein International Inc., Quorn Foods, Inc., Parabel USA Inc., and Impossible Foods Inc., among others.