Free Analysis
Patient handling devices are used in hospitals and homecare for taking care of patients before and after surgery. They are used for handling patients who are not completely alert, due to illness or medication. They are also used for patients who cannot follow directions and need physical assistance due to any critical or severe illness. Patient handling equipment/devices provide ease for patients for moving from one place to another. They are both mechanical and non-mechanical in nature and allow the patients admitted in hospitals and other medical centers to transfer beds and chairs.
According to Merck Sharp & Dohme, half the adult population that is hospitalized is aged above 65 years. Increase in the elderly population base combined with a high risk of chronic diseases will drive the patient handling device market in the future. Significant growth of the geriatric population, rise in consumable disposable income, high adoption of technological advancements for patient handling are expected to create new growth opportunities in the patient handling device market. High adoption of technological advancements, increasing product lifecycle, developing healthcare infrastructure, leading companies with advanced technologies and active marketing channels, and the rising number of government initiatives are also driving the patient handling device market. However, the high equipment cost is one of the major factors that may hinder the patient handling device market growth in the future.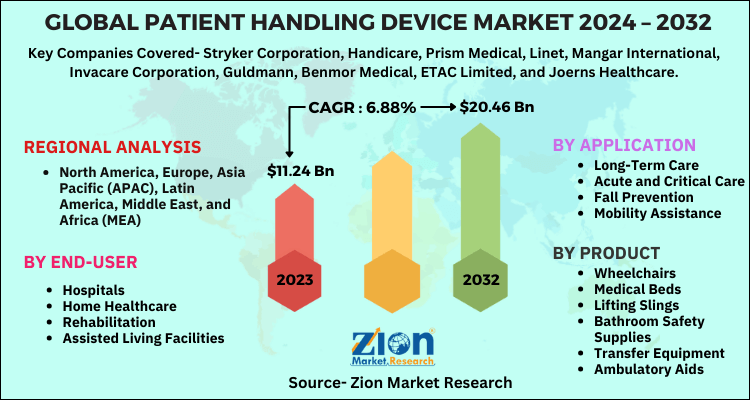 By product, the market for patient handling device is fragmented into lifting slings, wheelchairs, medical beds, transfer equipment, ambulatory aids, and bathroom safety supplies. By application, the patient handling device market is segmented into mobility assistance, long-term care, fall prevention, and acute and critical care. Based on end-user, the market is divided into assisted living facilities, rehabilitation, hospitals, and home healthcare.
North America dominated the patient handling device market in 2018, owing to a considerable rise in the number of surgeries especially in the U.S. The presence of a huge aging population base, promising healthcare schemes listed by government agencies, and rising number of surgeries are further propelling this regional market's growth. Nearly, 20-50 million are seriously injured in road accidents daily all over the world. India currently has the worst road accident rate in the entire Asia Pacific region. Considering the surge in the number of car accidents in countries like China, India, and Japan, the Asia Pacific patient handling device market will register notable growth.
Some major players involved in the global patient handling device market are Stryker Corporation, Handicare, Prism Medical, Linet, Mangar International, Invacare Corporation, Guldmann, Benmor Medical, ETAC Limited, and Joerns Healthcare.