Free Analysis
The increasing use of network-centric warfare systems for communication operations is on the rise. These systems help in improving information sharing and enhance situational awareness. Over the last decade, investments in defense communication systems have increased. In 2019, the U.S. Department of Defense requested funds worth USD 236.7 billion for weapon systems acquisitions, out of which about 4% (USD 10 billion) was for command, control, and communication systems. Thus, the global network centric warfare market is anticipated to grow in the upcoming years.
The increasing adoption of technology in land-based applications is preliminarily driving the network centric warfare market. Numerous market players have opted for various strategies for providing technology to the military. In 2018, L3 Technologies and Harris Corporation merged to start a defense technology firm, which aims at developing mission-centric solutions for the defense sector. Additionally, the rising number of cyberattacks has led to the development of complex network-centric warfare systems. However, the increasing technology usage in the defense sector of numerous countries in the Asia Pacific region is anticipated to offer new growth opportunities for the market.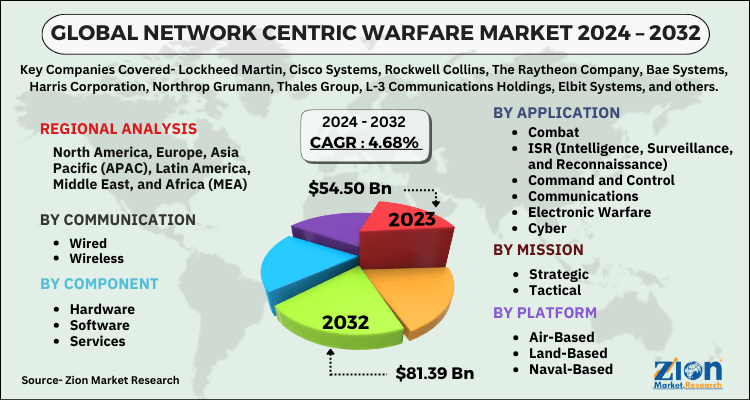 The global network centric warfare market is fragmented into component, communication, mission, platform, and application. Based on platform, the global network centric warfare market includes air-based, land-based, and naval-based. The land-based segment is expected to hold a notable share of the market over the estimated time span. On the basis of component, the market includes hardware, software, and services. Based on application, the network centric warfare market is segmented into combat, ISR (Intelligence, Surveillance, and Reconnaissance), command and control, communications, electronic warfare, cyber, and others. The command and control segment is projected to hold a substantial market share over the forecast timeframe. The communication segment is divided into wired and wireless. The wireless segment is expected to grow substantially over the estimated time period, owing to the rising investments made in wireless technology. The mission segment includes strategic and tactical.
The Middle Eastern and African region is anticipated to witness notable growth in network centric warfare market in the future, owing to the rising adoption of network centric warfare technology in the defense sector. Countries like Israel and the UAE are anticipated to be major attractions for the market players in this region. The Asia Pacific region is expected to hold a significant share of the network centric warfare market globally over the forecast time span, due to the rising investments in technology for the defense sector in countries like India, China, and Japan.
Some noticeable players of the global network centric warfare market are Lockheed Martin, Cisco Systems, Rockwell Collins, The Raytheon Company, Bae Systems, Harris Corporation, Northrop Grumann, Thales Group, L-3 Communications Holdings, and Elbit Systems.