Analysis
Near infrared imaging employs near-infrared expanse of the electromagnetic spectrum. It is a non-invasive technique that uses non-ionizing rays for detecting the hemoglobin amount existing in body tissues, brain, and muscles. Near infrared imaging has a major application in physiological diagnostics. The near infrared imaging diagnostics has many advantages over conventional radio-imaging techniques. One of the major advantages is the non-invasive nature of near infrared imaging, which enables recurrent use of the imaging technique devoid of any side-effects.
The rising number of surgeries worldwide, multiple advantages offered by near infrared imaging as compared to conventional methods, rapid developments in the NIR imaging devices, advancements in cancer detection, increasing number of cancer and chronic patients, growing research and development activity in the healthcare IT sector, growing incidences of neurological disorders, and rising geriatric population are major factors driving the growth of the global near infrared imaging market. The growing applications of near infrared imaging, the cost-effectiveness of NIR imaging, and huge investments made by major market players will create new growth opportunities for the players in the near infrared imaging market. Nonetheless, prolonged approval procedures, the high price of infrared detectors, the huge popularity of alternative imaging techniques, and the absence of healthcare infrastructure and skilled professionals in the developing regions may restrict the global near infrared imaging market.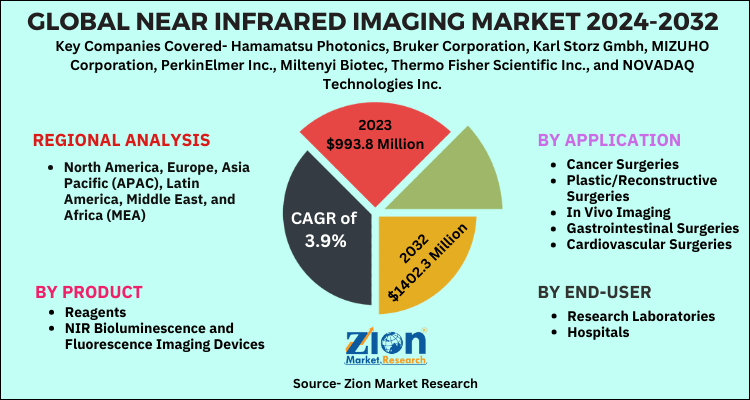 The global near infrared imaging market is split based on the product, application, and end-user. Based on product, the near infrared imaging market includes reagents and NIR bioluminescence and fluorescence imaging devices. The application segment includes cancer surgeries, plastic/reconstructive surgeries, in vivo imaging, gastrointestinal surgeries, cardiovascular surgeries, and others. The end-user segment includes research laboratories, hospitals, and others.
North America will lead the global near infrared imaging market over the forecast time period and accounted for over 38% of the global share in 2018. This can be attributed to the huge spending on healthcare, rapidly growing geriatric population, growing incidences of target diseases, an increasing number of people suffering from neurological disorders, the introduction of novel products, and presence of state-of-the-art healthcare facilities. Europe will be the second largest near infrared imaging market globally in the future, owing to the presence of skilled professionals, high R&D investment by leading companies, increasing geriatric population, the rising prevalence of chronic disorders, and positive reimbursement scenario. Asia Pacific will propagate speedily over the forecast time period, due to the rising incidences of chronic diseases, growing geriatric population in Japan and China, and rising disposable income of the regional population.
Some key players of the global near infrared imaging market are Hamamatsu Photonics, Bruker Corporation, Karl Storz Gmbh, MIZUHO Corporation, PerkinElmer Inc., Miltenyi Biotec, Thermo Fisher Scientific Inc., and NOVADAQ Technologies Inc.