Analysis
Mulch film is generally used to prevent moisture loss, control soil temperature, enhance crop precocity and yield, and control soil temperature. Rising demand for food owing to the increasing population and decreasing arable land is expected to drive the global mulch film market during the forecast period. Moreover, adoption of mulching technology in agriculture and effective water use in crop cultivation is estimated to drive the global mulch film market during the years to come. However, the harmful effects of plastics on the environment and the high cost of installation are anticipated to impede the growth of the market. Nevertheless, strong progress in new and emerging markets and innovations in mulch films such as biodegradable mulch films are likely to set new prospects for the market of the mulch film in the years to come.
The mulch film market is classified into type, application, and region. In terms of type, the market is categorized into black mulch, clear/transparent, colored mulch, polypropylene & polyethylene, and degradable mulch. For weed control, polyethylene mulch films are widely used whereas polypropylene is employed for perennials. Polyethylene-based plastics accounted for the largest market amongst all other mulch films shares in the mulch film market. Based on application, the mulch film market can be segmented into agricultural farms and horticulture. Agricultural farms application is dominating over the horticultural application for mulch film market in 2017. Owing to the extensive use of mulch film in cereal and pulse crops as well as vegetable crops it is also anticipated to dominate the global mulch film market during the years to come. Rising demand for fresh seasonal fruits is likely to set new prospects to the mulch film market over the forecasted period.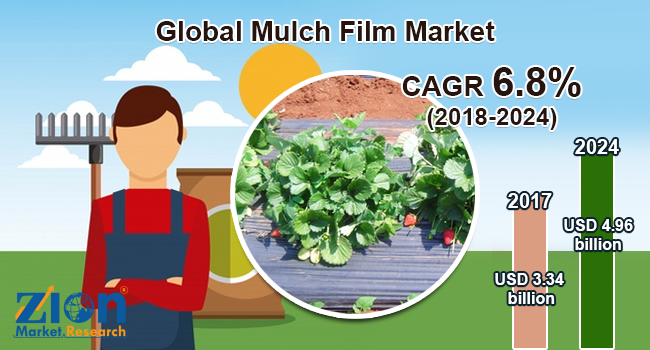 The Asia Pacific was the largest market for the global mulch film market in 2017. This region accounted for the largest market share in the past few years. Agricultural based economies such as India, China, Pakistan, Philippines, and Indonesia are anticipated to propel high growth rates due to ready to acceptance of advanced agricultural technology and enhancing production of crop and vegetables within the limited land. Europe and North America are anticipated to exhibit moderate growth over the next 7 years. The Middle East & Africa and Latin America are estimated to exhibit significant growth over the forecast period.
The key manufacturers in the global mulch film market are British Polythene Industries PLC, ExxonMobil Chemical, AEP Industries Inc., BASF SE, Britton Group, Ab Rani Plast Oy, Group Barbier, Kuraray Group, Plastika Kritis S.A., and The Dow Chemical Company, among others.