Analysis
Mobile hotspots are portable devices or features on mobile smartphones that offers wireless internet access across various devices simultaneously. Mobile hotspots operate on mobile broadband services from cellular providers for 3G or 4G internet access. A mobile router is a pocket-sized device specially designed with an inbuilt battery that can be easily carried from one place to another. A major application of mobile hotspot router is to offer internet connectivity to multiple users.
Increasing demand for wireless broadband such as active mobile broadband subscribers is primarily driving the growth of the product. Development and use of numerous e-commerce platforms for online shopping through portable devices is also contributing to the mobile hotspot router market. The high adoption rate of advanced wireless standards in the mobile broadband such as Long Term Evolution (LTE) is expected to drive the demand for mobile hotspot router in coming years. However, the limited signal range of Wi-Fi is hampering the growth of the product. The budding trends in Wi-Fi technology such as 802.11ac (Gigabit Wi-Fi) and Hotspot 2.0, is anticipated to unlock new opportunities in the market during the forecast period.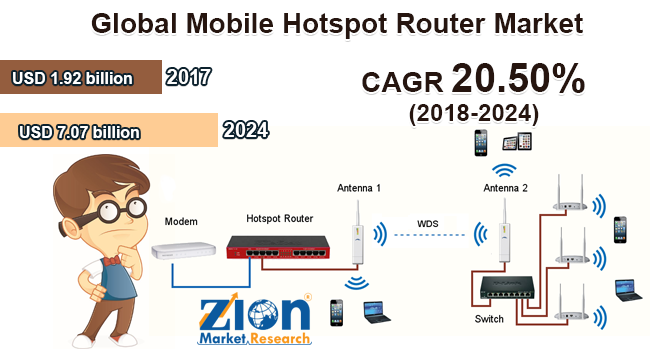 The standalone devices and bundled devices are the products of mobile hotspot router. The bundled device is the leading segment and is projected to remain dominant in the future owing to a wide range of applications across multiple verticals. The standalone device is anticipated to be the fastest growing segment of mobile hotspot router market.
Owing to the increasing number of mobile subscribers and high penetration of mobile internet, Asia Pacific dominates the global mobile hotspot router market. China and India are the leading countries having the largest mobile markets in the world. In India, the increase in internet users has tremendously grown smartphone subscriptions. According to a report by the Internet and Mobile Association of India (IAMAI), the number of active mobile users in India stood at 481 million as of December 2017, which is expected to cross 500 million by June 2018, and it may reach 800 million till 2020. This indicates that the region is likely to grow at a faster pace over the next few years. North America is the second largest regional market following the Asia Pacific for mobile hotspot router.
Mobile hotspot router market is bifurcated into the product and end-user segments. The end-user segment is classified into domestic and commercial users. Regionally the market is segmented into Asia Pacific, North America, Europe, the Middle East and Africa, and Latin America.
NETGEAR, TP-Link Technologies Co., Ltd., D-Link Corporation, Novatel Wireless, Inc., Huawei Technologies Co., Franklin Wireless, Samsung Electronics, ZTE Corporation, Sierra Wireless, and ConnecteDevice Ltd. are certain leading players in mobile hotspot router market. Launching new products, joint ventures and partnerships are the strategies followed by the organizations for the market growth.