Analysis
Mobile device management (MDM) helps organizations to secure, monitor, deploy, integrate and manage mobile devices such as smartphones, tablets computers, laptops and desktop computers. The mobile device management provides a number of services such as remote device administration & configuration, inventory & asset management, installation & updates on operating system and application level & cost management. Mobile device management (MDM) is like adding an extra layer of security and ensuring a way to monitor device related activities. MDM provides device platform specific features like device encryption, platform specific policies, SD Card encryption. Geo-location tracking, connectivity profiles (VPN, Wi-Fi, Bluetooth) and plenty other features are part of MDM Suite.
The mobile device management market is mainly driven by increasing number of smartphones and tablets. Moreover, growing security concerns to protect company data and mobile device population explosion are also anticipated to drive the mobile device management market over the forecast period. However, lack of awareness and complication due to availability of many operating systems may pose challenge to the market growth. Moreover, ongoing research & development in the field of mobile device management is expected to open new avenues for the market growth in the next few years.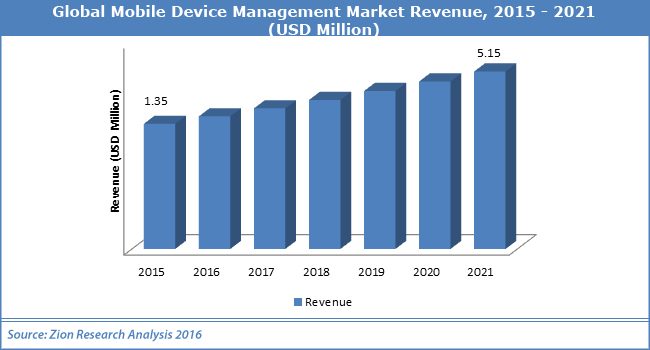 Based on solution, mobile device management market has been segmented into device management, application management, security management, network service management and others. Mobile device management market was dominated by application management segment. Further it is expected to continue its dominance in global market over the forecast period as well as be the fastest-growing solutions in this market. Security management, device management and network service management segments are expected to exhibit considerable growth in the next few years.
Mobile device management market can be segmented based on vertical into education, healthcare, banking, financial services, and insurance (BFSI), retail, manufacturing and others. This market is dominated by banking, financial services, and insurance segment in 2015. Furthermore, education is expected to be the fastest growing vertical in this market.
By geography, North America was the largest segment in mobile device management market due to the rising mobile workforce, BYOD (bring your own device) trend and increased smartphone & tablet penetration. North America followed by Asia Pacific and Europe. Asia Pacific is expected to emerge as fastest growing segment in next few years due to the high percentage of young population, increasing use of local brands of tablets and smartphones for business purposes, and the growing BYOD trend.
Some of the key players in the global mobile device management market include IBM Corporation, Citrix systems, VMware AirWatch, MobileIron, NetPlus Amtel, SAP, Symantec Corporation, BlackBerry Ltd., SOTI, Inc., Sophos, and Microsoft Corporation.