Free Analysis
Microbiological culture is a well-established research tool used in molecular biology for the culture of bacteria and yeast organisms. It is a process of multiplying microbial organisms by allowing them to reproduce in fixed culture media under appropriate laboratory conditions. It is one of the primary diagnostic methods of microbiology and used as a tool to determine the cause of infectious disease by letting the agent multiply in a predetermined medium. Microbial cultures are also used to determine the type of organism present in the culture.
Globally, microbiological culture market has been accelerated by increasing/rising demand of antibiotics. Moreover, an increase in medical research and funding are the key factors for fueling the growth of microbiological culture market. Furthermore, increase pandemics of microbial infection coupled with various food borne diseases are also considered prime factors for the growth of microbiological culture growth market. However, rising price of antibiotics coupled with the resistance to antibiotics against infection is such limitation which directly affects the growth of the market. Nonetheless, ongoing research and development in the healthcare sector technologies are expected to open growth avenues for the microbiological culture market over the years.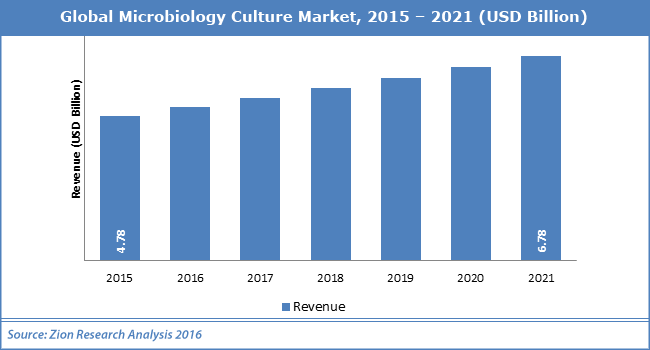 Based on culture type, the global market of microbiological culture is bifurcated into two types: bacterial culture and eukaryotic culture. The segment of eukaryotic culture is further segmented into eukaryotic algal cultures, yeast cultures, and others. Bacterial culture accounted for the largest market share in terms of revenue in 2015. This is due to increase usage in pharmaceuticals, disease research, and food microbiology.
Based on media type, the global market of microbiological culture is bifurcated into four types: simple media, complex media, synthetic media and special media. Complex media dominated the microbiology culture media market in 2015 followed by special media. Complex media accounted for the largest market share in terms of revenue, because it offers a full range of development factors require for the cultivation of nutritionally complex bacteria or any kind of unknown bacteria.
Based on geographies, the global market of microbiological culture market is bifurcated into five types: North America, Europe, Asia-Pacific, Latin America, and the Middle East and Africa. These segments are further bifurcated into the U.S., UK, Germany, France, China, Japan, India, and Brazil. North America was the leading regional segments of microbiological culture market in 2015 followed by Europe, as this region associated with advance research related to microbial infection and thus affordability of drugs. Moreover, technological advancement and strong demand for antibiotics are also anticipated account for market growth. The microbiological culture market is expected to witness the highest growth in Asia-Pacific region in upcoming years due to food safety measures, increasing demand for antibiotics and excessive increase of health care.
Key market players of microbiology culture market include Becton, Dickinson and Company, Eiken Chemical Co, Ltd., Neogen Corporation, Sigma-Aldrich Co., Thermo Fisher Scientific, Inc., and LLC, Scharlab S.L., among others.