Analysis
Medium chain triglycerides (MCT's) are saturated fatty acids that are generally found in food products. These acids have small carbon chain structure in nature. Therefore, they are easily digested and are consumed by the liver, where they have a thermogenic effect and the ability to positively alter the metabolism in the body. Moreover, MCTs are extensively present in palm oil, milk fat, and coconut oil. It is a yellowish or colorless liquid which is insoluble in water. They have an intrinsic beneficial trait in protein metabolism. Therefore, MCTs are primarily used for dietary and medical relevance.
Growing demand for MCT in the global food industry is a major driving force of global medium chain triglycerides market. Moreover, growing health awareness among the population is likely to drive the market size during the near future. Rising penetration of MCT based personal products is projected to boom the market growth. However, the high manufacturing cost may slow down the market sales. Nonetheless, on-going research & development in personal products and healthcare industry is anticipated to offer new opportunities at global level markets during the years to come.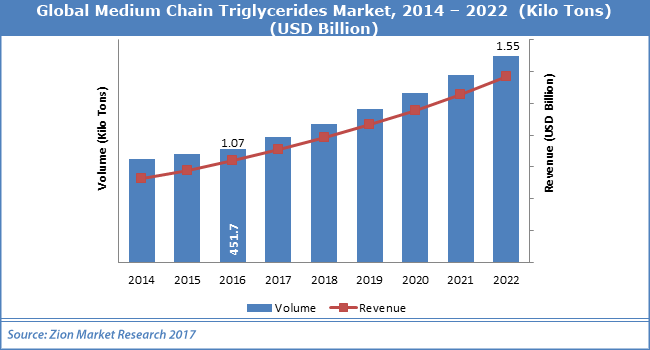 Caproic Acid, Caprylic Acid, Capric Acid, Lauric Acid, Heptanoic Acid and Nonanoic Acid are the prime products of global medium chain triglycerides market. Among these products, lauric acid emerged as leading segment in 2016. It is extensively beneficial acid used for curing diseases such as influenza, HIV/AIDS, and others. Generally, it is utilized in the production of soap and shampoo in personal care product and used as a vegetable shortening in the food industry. Therefore, it is the wide scope of largest demand in diverse applications during the next few years.
Based on assorted applications, the global medium chain triglycerides market is bifurcated into medical, food and others. The food was the most attractive segment of the global medium chain triglycerides market in 2016. Moreover, the food industry is predicted to grow at exponential rate owing to changing lifestyle coupled with rising disposable incomes. Growing sports activity across the globe, for instance, French open, Australia open and FIFA World Cup are some upcoming events of the sport that are going to be held in 2018. This parameter is likely to help to gain the strong demand for MCT in the near future.
In terms of the global market, Asia Pacific was the largest market of medium chain triglycerides in 2016. During the next few years, Asia-Pacific is predicted to have lucrative growth due to comparatively easily availability of raw material in the region. Moreover, emerging food industry coupled with changing eating habits of the population in the region is likely to propel the growth of the market. North America and Europe are also projected to have significant margins of medium chain triglycerides over the future years.
Some of the key vendors of the global medium chain triglycerides market include Acme-Hardesty, ABITEC Corporation, BASF SE, CONNOILS LLC, Croda International Plc, Dr. Straetmans GmbH, Elementis, Emery Oleochemicals Group, Klk Oleo, Lonza Group, Magna-Kron Corp, Musim Mas, Oleon, Peter Cremer Holding GmbH & Co. KG and Stepan.