Analysis
Medical videoscope is a device used to screen and obtain internal body cavities in surgical and medical settings. It captures real-time images of visceral organs and hollow cavities. The organs that are usually scanned using videoscopes include the brain, abdomen, esophagus, gastrointestinal (GI) tract, and lungs. Physicians are able to achieve high-quality diagnostic examination in different ENT environments. There are various types of videoscopes available in the market based on end-user requirements and specifications.
The rapid developments in medical devices and equipment industry and rising government initiatives and investments are projected to drive the medical videoscopes market growth in the upcoming years. Additionally, the increasing population across developing economies is demanding more number of medical amenities including hospitals and clinics, which is also supporting the global medical videoscopes market over the projection time period. Rising consumer preference for advanced healthcare management and disease diagnosis is estimated to further propel the demand for videoscope products in the future. Moreover, the rising occurrences of numerous chronic diseases, such as obesity, cancers, stroke, heart diseases, arthritis, and diabetes, are projected to offer new growth opportunities for the market.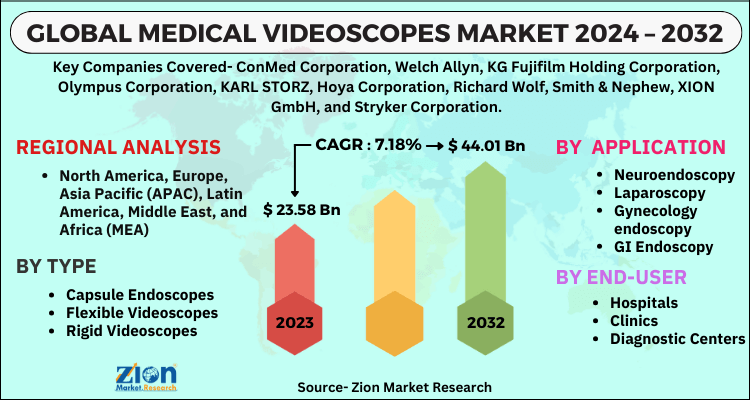 Based on type, the global medical videoscopes market is divided into capsule endoscopes, rigid videoscopes, and flexible videoscopes. Based on end-user, the market includes hospitals, clinics, diagnostic centers, and others. Based on application the market is classified as neuroendoscopy, laparoscopy, gynecology endoscopy, GI endoscopy, ENT endoscopy, arthroscopy, and urology endoscopy. Laparoscopy is the fastest growing segment due to the increasing number of bariatric surgeries across the globe and the rising demand for surgical procedures that involve minimal invasion.
By region, North America is projected to record a significant CAGR in the global medical videoscopes market due to the growing investments in the medical devices and instruments sector. The Asia Pacific medical videoscopes market is estimated to record a considerable growth rate over the forecasted time period, owing to the rising demand across various end-user segments and the increasing number of medical facilities. An increasing number of government initiatives and developing economies is predicted to propel the market growth in Latin America. In Europe, the medical videoscopes market growth is primarily attributed to the rising investments by the key players in the area of medical innovations and research. In the Middle East and Africa, the rising number of development activities and the growing investments in building advanced healthcare facilities are anticipated to boost the medical videoscopes market in the region.
Some key players operating in the global medical videoscopes market are ConMed Corporation, Welch Allyn, KG Fujifilm Holding Corporation, Olympus Corporation, KARL STORZ, Hoya Corporation, Richard Wolf, Smith & Nephew, XION GmbH, and Stryker Corporation.