The report includes revenue forecast & analysis of the Neuroendoscopy Market on a global as well as regional level. It also offers historic data from 2016 to 2019 and provides assessment of the industry growth during 2020-2026 in terms of USD Million. Our study includes competitive strategies adopted by the key industry players based on the framework offered by the Porter's Five Forces Analysis impacting the market evolution.
According to the report, global demand for Neuroendoscopy Market was valued at nearly USD 195.22 Million in 2019, and is expected to generate revenue of around USD 286.85 Million by end of 2026, growing at a CAGR of around 5.7% between 2020 and 2026.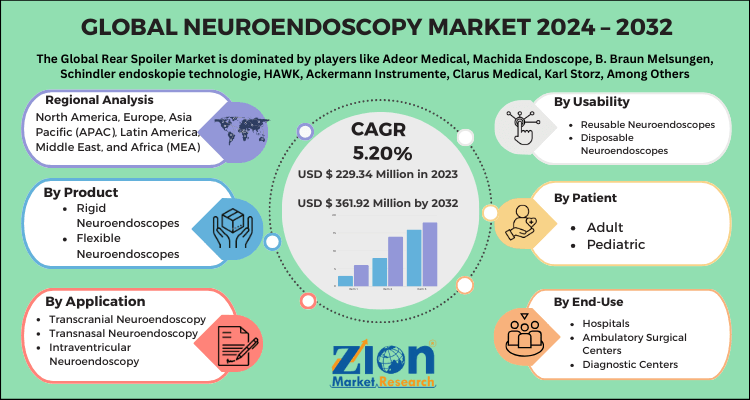 Request Free Sample
Our study offers accurate market attractiveness analysis and thus helps the customer in exploring the growth potential of the Neuroendoscopy market over the forecast period. Moreover, the market is divided into segments including product, application, end-use, usability, and patient.
Based on the product, the Neuroendoscopy market is segmented into Rigid Neuroendoscopes and Flexible Neuroendoscopes. Application-wise, the market is divided into Transcranial Neuroendoscopy, Transnasal Neuroendoscopy, and Intraventricular Neuroendoscopy. On the basis of end-use, the market is segregated into Hospitals, Diagnostic Centers, and Ambulatory Surgical Centers. Based on the patient, the industry is divided into Adult and Pediatric. In terms of usability, the market is bifurcated into Reusable Neuroendoscopes and Disposable Neuroendoscopes. Region-wise, the market is segmented into North America, Latin America, Asia Pacific, the Middle East and Africa, and Europe.
The report encompasses PESTEL and SWOT analysis for critically examining the factors affecting the performance of each industry player in the current scenario as well as during the forecast timeline. It also provides an insight into the competitive moves adopted by the key market players to gain competitive edge.
Details of the Report:
| | |
| --- | --- |
| Report Metric | Details |
| Base Year | 2019 |
| Historical Data | 2016-2018 |
| Forecast period | 2020-2026 |
| Segments Analyzed | By Product, By Application, By End-Use, By Patient, By Usability, and By Region |
| Regions Analyzed | North America, Asia Pacific, Latin America, Europe, and the Middle East and Africa |
Key Drivers:
A prominent increase in the brain tumors is expected to enhance the popularity of Neuroendoscopy globally. In addition to this, technological changes witnessed in minimally invasive surgical methods are predicted to embellish the expansion of the Neuroendoscopy industry over the forecast timeframe. Apparently, a prominent bulge in the aging populace globally prone to suffer from brain disorders is projected to produce lucrative growth opportunities for the Neuroendoscopy industry over the forecast timeline.
The key players influencing Neuroendoscopy market growth and profiled in the report include:
This report segments the Neuroendoscopy market as follows:
Global Neuroendoscopy Market: By Product Segment Analysis
Rigid Neuroendoscopes

Rigid Fiberscopes

Rigid Videoscopes

Flexible Neuroendoscopes
Global Neuroendoscopy Market: By Application Segment Analysis
Transcranial Neuroendoscopy

Transnasal Neuroendoscopy

Intraventricular Neuroendoscopy
Global Neuroendoscopy Market: By Usability Segment Analysis
Global Neuroendoscopy Market: By Patient Segment Analysis
Global Neuroendoscopy Market: By End-Use Segment Analysis
Global Neuroendoscopy Market: Regional Segment Analysis
North America
Europe
Asia Pacific
Latin America
Middle East and Africa