Analysis
Medical device packaging is utilized for storing, transporting, and protecting the medical devices. The packaging must maintain the sterility of the medical device until its usage. Moreover, the packaging includes protection of both rigid and flexible type of products. Manufacturers responsible for packaging system design are required to offer a secured and effective packaging system. The main objective of the packaging is to keep the products free from microbial contamination and maintain sterile condition. Packaging helps the medical devices against tearing, vibration, splitting, damaging, and atmospheric changes. The investments and advancements in the healthcare industry are anticipated to expand the production of medical devices and medical appliances, which in turn contributes to the growth of the market.
Increasing demand for flexible packaging due to its transparency, chemical resistance, and moldability are expected to positively influence the market growth during the forecast time period. In addition to this, a smart approach to the modern packaging system could be beneficial to the medical device manufacturers which in turn propel the market growth. The rising demand for the product with longer shelf life is also the major factor driving the market. The shelf life of the products can be increased by protecting it from various deteriorating agents such as oxygen, moisture, and microorganisms. Furthermore, due to increased viral infections, most of the medical devices manufacturing factories, hospitals, and diagnostic centers are focusing on disinfecting medical device packaging. However, high cost for maintaining the medical devices is retraining the growth of the market.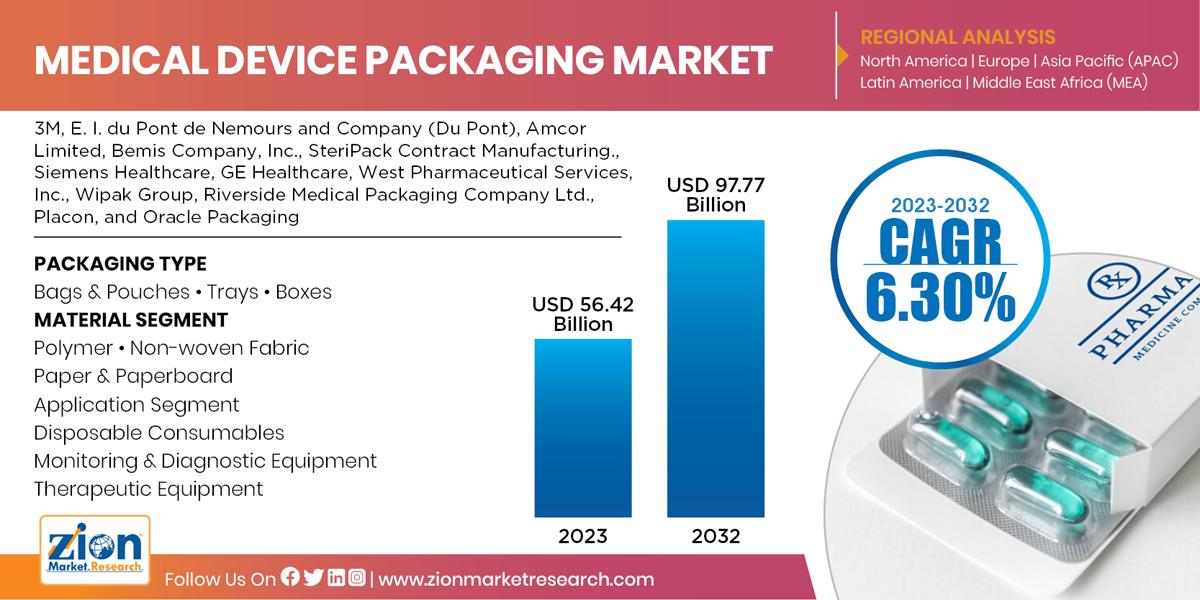 On the basis of the packaging type, medical device packaging market is segmented into bags & pouches, trays, and boxes. Based on the material, the market is classified into the polymer, non-woven fabric, and paper & paperboard. Based on the application, the market is classified into disposable consumables, monitoring & diagnostic equipment, and therapeutic equipment.
North America accounted for a considerable revenue share of the medical device packaging market in 2017 and the region is projected to continue with its regional supremacy over the forecast period. The growth of this regional market is attributed due to the technological advancement and high income of consumers. Europe is the leading region followed by North America. Presence of the major manufacturers such as Siemens Healthcare, GE Healthcare, and others also propel the growth of the market in Europe. Asia Pacific medical device packaging market has emerged as the fastest growing market led by China, Japan, and India owing to the growing pharmaceutical industries in the region.
The major players operating in the medical device packaging market are 3M, E. I. du Pont de Nemours and Company (Du Pont), Amcor Limited, Bemis Company, Inc., SteriPack Contract Manufacturing, Siemens Healthcare, GE Healthcare, West Pharmaceutical Services, Inc., Wipak Group, Riverside Medical Packaging Company Ltd., Placon, and Oracle Packaging.