Analysis
Machine vision is the technology that delivers automatic scrutiny and review based on imageries for numerous applications, such as automatic inspection, process control, and robot guidance. There is an extensive opportunity for the machine vision market development in the upcoming years.
The machine vision market is likely to show notable growth over the forecast time period, owing to the growing demand from various industries for machine vision devices. In addition, the use of cutting-edge technology in the advancement of machine vision devices is also enhancing the machine vision market growth. Furthermore, the reasonable price of labor-related to the machine vision industry and augmented job openings are other key factors for the machine vision market growth. However, the high price for upkeep costs of machine vision gadgets along with huge price of conveyance and fluctuation in raw material prices may hinder the machine vision market growth.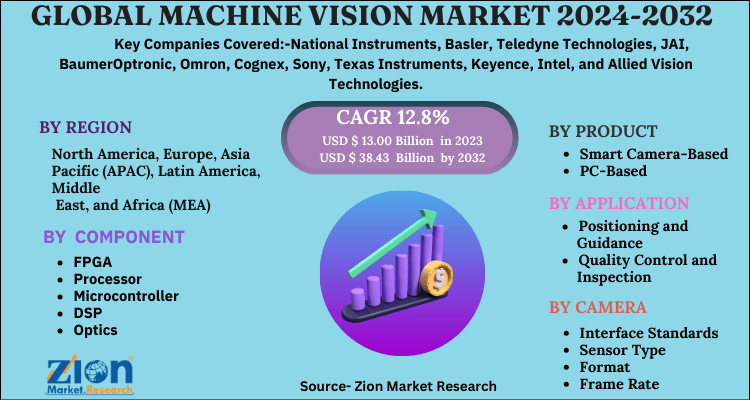 The global market for machine vision is divided on the basis of component, product, application, camera, industrial vertical, and non-industrial vertical. Based on component, the machine vision market includes microprocessor, FPGA, microcontroller, LED lighting, deep learning, DSP, optics, processor, application specific, frame grabber, and others. By product, the market includes PC-based and smart camera-based machine vision systems. Smart cameras are also proficient in the interpretation of labels and guiding products spontaneously without any human participation. Reduced human interference leads to fewer errors and amplified accurateness while checking labels and tags.
By application, the market is classified into recognition, quality control and inspection, identification, measurement, positioning and guidance, and others. The technology is widely used for scanning and recognizing barcodes, labels, and texts, particularly in the packaging industry.
By camera, the market comprises frame rate, sensor type, format, interface standards, and others. Based on industrial vertical, the global market includes consumer electronics, pharmaceutical, glass, printing, wood and paper, solar panel manufacturing, machinery, electronics and semiconductor, automotive, rubber and plastics, metals, food and packaging, and others. The food and beverage industry is anticipated to display the notable growth over the forecast years.
The non-industrial vertical segment consists of the intelligent transportation system, security and surveillance, autonomous cars, healthcare and medical imaging, agriculture, postal and logistics, and others. The healthcare and medical imaging segment is gaining traction in the machine vision market.
The Asia Pacific is projected to attain significant growth rate between 2019 and 2025 in the global machine vision market. Countries like China and India are the major markets for machine vision, due to their rapid rate of economic growth.
Some key players operating in the machine vision market across the globe are National Instruments, Basler, Teledyne Technologies, JAI, BaumerOptronic, Omron, Cognex, Sony, Texas Instruments, Keyence, Intel, and Allied Vision Technologies.