Analysis
IoT monetization is used to generate revenue for organizations with IoT-aided devices, such as smart appliances, smart home, smart cameras, smartphones, and others.
The IoT monetization market is gaining popularity globally, due to its increasing demand by enterprises, industries, and businesses that are working on implementing the process of IoT monetization to efficiently manage work and generate revenue. IoT is playing a crucial role in monetization and has secured its place in numerous sectors, such as retail, home automation, etc. Other growth factors propelling the IoT monetization market include growing smartphone user base, increasing advancements in technology related to on cloud, and the ongoing emergence of smart appliances for building offices and smart cities. Advanced connected IoT wearable and sensors will help businesses with analyzing, monitoring, and revenue management in a cost-effective manner. This can be attained by implementing easy license management, flexible business models, and reduced hardware storage. However, concerns related to security and lack of power-efficient devices may curtail the growth of the IoT monetization market globally in the years ahead.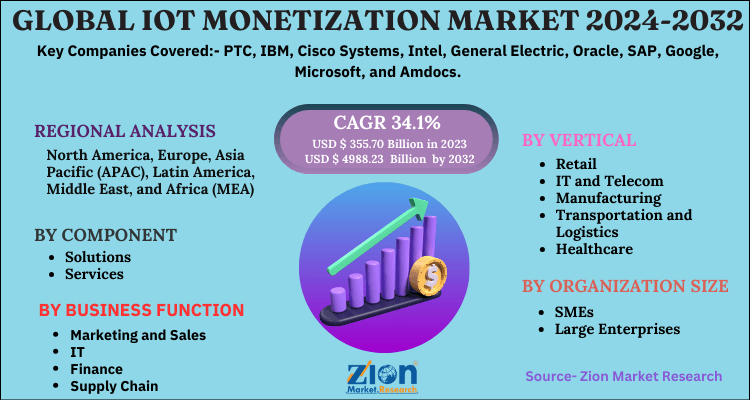 By component, the IoT monetization market includes solution and services. The solution segment will hold a notable share over the projected time period, owing to the rising use of solutions by organizations to monetize IoT data. Various firms are trying to find numerous ways to differentiate their products and services, which will impact enterprises, businesses, and industries. Organizations want to handle all revenue streams via one platform that has adaptable settlement and billing capabilities and provides a price-per-use model. This will further drive the solutions segment in the future.
North America will witness notable growth in the IoT monetization market globally, owing to the early implementation of IoT and industry 4.0 by numerous industries. Moreover, the adoption of IoT in factories to convert them into smart factories will also accelerate the region's IoT monetization market growth. The market is likely to grow further due to the huge investments to enhance IoT-based processes. Furthermore, IoT has changed the business execution method by entirely transforming business models. For instance, in case of PaaS (Product as a Service), an OEM makes a device, but instead of charging the customer directly, it allows payment through flexible models, such as pay-per-use, monthly, metered, etc. Additionally, concerns related to property and life insurance is predicted to boost this regional market over the estimated time period.
Some noticeable players of the IoT monetization market are PTC, IBM, Cisco Systems, Intel, General Electric, Oracle, SAP, Google, Microsoft, and Amdocs.