Analysis
Interventional oncology is a field of interventional radiology that deals with the treatment and diagnosis of primary or metastatic cancers, such as kidney, liver, bone, lung, etc. As the process is minimally invasive in nature, the recovery time required is less. Interventional oncology is among the most promising and rapidly growing branch of interventional radiology. This procedure is mostly used for patients who are not eligible for chemotherapy.
According to international agencies for cancer research, in 2018, about 18.1 million new cancer patients were reported across the world. Additionally, every sixth global death is due to cancer, thus making it the second death cause globally. Escalating cancer patients, increasing elderly population, and rising cancer risk among youth due to unhealthy habits like smoking, chewing tobacco, and alcohol will drive the interventional oncology market in the future. A significant rise in disposable income, increase in cancer awareness, and high adoption of technological advancements are expected to create additional growth opportunities for the interventional oncology market in the years ahead. Improvements in the R&D process, presence of giant companies with advanced technologies and active marketing channels, ongoing developments of the healthcare infrastructure, increasing government initiatives are further stimulating the interventional oncology market growth. However, high treatment cost and adverse effects of chemotherapy drugs on patients may limit this global market.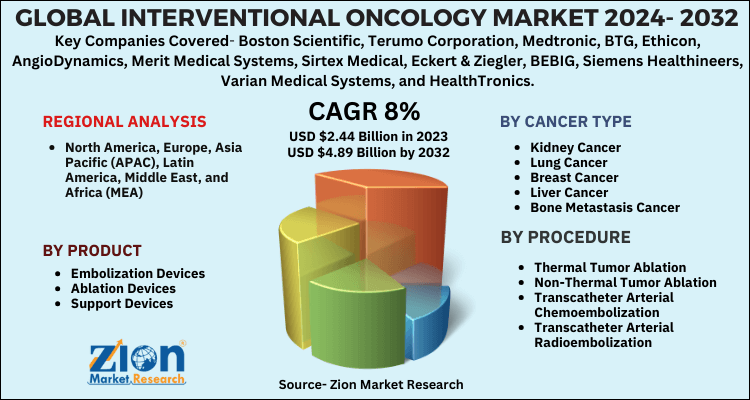 On the basis of product, the market includes embolization devices (radioembolic and non-radioactive agents), ablation devices (cryoablation devices, radiofrequency ablation devices, microwave ablation devices, and others), and support devices (microcatheters and guidewires). By cancer type, the interventional oncology market includes kidney, liver, lung, bone metastasis, breast, and other cancers. Based on procedure, the market comprises thermal tumor ablation, non-thermal tumor ablation, transcatheter arterial chemoembolization, transcatheter arterial embolization, and transcatheter arterial radioembolization.
North America dominated the interventional oncology market in 2018, due to the considerably high number of cancer surgeries, especially in the U.S. In 2018, about 1.7 million new cancer cases were diagnosed and nearly around 6.5 lakh people died in the same year in the U.S. The Asia Pacific interventional oncology market is expected to record the highest CAGR in the upcoming years, as the developing economies of India, China, and South Korea and the developed economies of Japan and Australia are offering several opportunities for regional expansion to global market players.
Some major players involved in the interventional oncology market are Boston Scientific, Terumo Corporation, Medtronic, BTG, Ethicon, AngioDynamics, Merit Medical Systems, Sirtex Medical, Eckert & Ziegler, BEBIG, Siemens Healthineers, Varian Medical Systems, and HealthTronics.