Free Analysis
Industrial robotics system comprises automation and instrumentation equipment, and helps in monitoring and controlling various processes within industries. Rising demand in order to enhance productivity and decrease variable cost are the major factors which are expected to drive the global industrial robotics market growth over the forecast period. Moreover, the need to enhance efficiency and precision is expected to further drive industrial robotics market growth during the forecast period. The industrial robotics market is anticipated to experience rapid growth. Various institutions introduce programs and courses in robotics. Robotics courses are spread across electrical engineering, mechanical engineering, and computer science departments. Increasing prominence upon the improvement of productivity of high volume production lines, mainly in the manufacturing of electronic devices and vehicles would positively impact industrial robotics market growth in the coming years.

The growing inclination of consumers towards customized products is expected to provide potential growth opportunities for industry players. Industrial robots offer various benefits, such as cost reduction, size reduction, increased rate of operation and improved quality, coupled with improved manufacturing efficiency and flexibility. Rising awareness levels regarding the advantages of industrial robots are expected to further drive industrial robotics market growth over the forecast period. The influx of robots integrated with vision and touch, which augment the efficiency and speed of the delivery systems, is predicted to stimulate industry growth in the future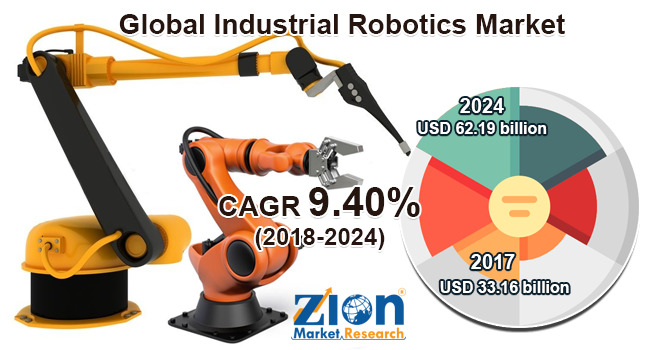 Based on the type, the industrial robotics market is divided into traditional industrial robots and collaborative industrial robots. Traditional industrial robots are further divided into parallel robots, articulated robots, SCARA robots, cartesian robots, and others. On the basis of application, the industrial robotics market is sectored into automotive, food and beverages, electrical and electronics, metals and machinery, plastics, rubber and chemicals, pharmaceuticals, cosmetics, and others.
The Asia Pacific accounted for the largest market share in the global industrial robotics market. The growth is attributed to the rapid automation witnessed in the manufacturing processes in developing countries such as China and India. Moreover, the deployment of industrial robots has increased in small-scale firms across the region. North America and Europe are expected to contribute significantly towards global industrial robotics market progression over the forecast timeframe.
Some of the key players operating in industrial robotics market include ABB, Toshiba Machine Co., Ltd., YRG, Inc., Omron Adept Technologies, Fanuc Robotics, Panasonic Corporation, DENSO Corporation, EPSON Electronics, KU.K.a AG, and Mitsubishi Electric Corporation. Industry players are mostly focusing on mergers & acquisitions strategies and are engaged in developing innovative products to gain major revenue share of the market.