According to the report published by Zion Market Research, global demand for articulated robot market was valued at approximately USD 12.9 Billion in 2019, and is expected to generate revenue of around USD 39 Billion by end of 2026, growing at a CAGR of around 17.2% between 2020 and 2026.
Global Articulated Robot Market: Overview
Articulated robot is a kind of robot having rotary joints, particularly, a legged robot or an industrial robot. Articulated robots can range from simply two-jointed structures to systems with ten or more interacting joints. They are powered by a variety of means, including electric motors.
Global Articulated Robot Market: Growth Factors
The articulated robot market is gaining popularity owing to accurate operation and increased automation in the assembly lines in automotive and electronic manufacturing sectors. In addition to this, lucrative use of the product by many firms is projected to propel the production of the articulated robots, thereby further enlarging the scope of articulated robot market in the years ahead. Furthermore, large-scale use of industrial robots in automotive, food & beverages, aerospace, medical & pharmaceuticals, and electronic manufacturing sector is expected to fuel articulated robot market. Lowly populated regions along with need for accuracy in metal mining and deep underwater activities will further contribute towards the growth of articulated robot market earnings in the next few years. Rising preference for industry 4.0 is predicted to generate more demand for articulated robots during the ensuing years. However, high initial investment impedes the market growth over the past few years. Nevertheless, increased demand for low-cost articulated robots that can work with people is estimated to proliferate the market growth in forthcoming years.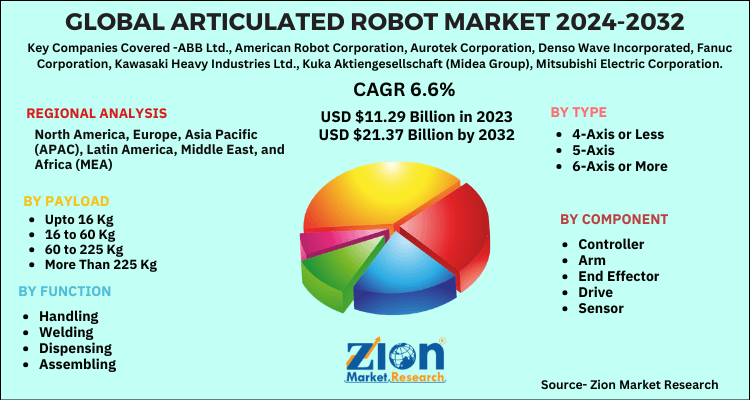 Request Free Sample
Global Articulated Robot Market: Segmentation
The global articulated robot market can be divided based on payload, function, type, component, end use, and sales channel. Based on the payload, the market has been categorized into 16 to 60 kg, upto 16 kg, 60 to 225 kg, and more than 225 kg. On the basis of function, the market has been segmented into handling, welding, dispensing, and assembling, among others. In term of type, the market has been segmented into 4-axis or less, 5-axis, and 6-axis or more. Based on component, the market has been bifurcated into controller, arm, end effector, drive, sensor, and others. These are used across various end user industries such as automotive, electrical and electronics, chemicals, rubber and plastics, metal and machinery, food and beverages, precision engineering and optics, pharmaceuticals and cosmetics, among others. Electrical and electronics are projected to contribute notably towards the market share in the years ahead. The sales channel has been categorized into direct channel, and distribution channel.
Region-wise, the global market is segregated into North America, Europe, Asia Pacific, Latin America, and Middle East & Africa.
Global Articulated Robot Market: Regional Analysis
Asia Pacific articulated robot market is anticipated to contribute remarkably towards overall market revenue in the years to come. The growth can be attributed to well-established presence of key players such as FANUC CORPORATION, Kawasaki Heavy Industries, Ltd., YASKAWA Electric Corporation, Mitsubishi Electric Corporation, and Seiko Epson Corporation in the countries such as India, China, and Japan. In addition to this, massive demand for the product as a result of constantly thriving electrical and electronics sector in the region will further boost the regional growth in the forthcoming years. Furthermore, key firms across the APAC are manufacturing advanced new generation articulated robots, thereby helping in fulfilling the product demand across myriad sectors.
Global Articulated Robot Market: Competitive Players
Some main participants of the articulated robot market are ABB Ltd., American Robot Corporation, Aurotek Corporation, Denso Wave Incorporated, Fanuc Corporation, Kawasaki Heavy Industries Ltd., Kuka Aktiengesellschaft (Midea Group), Mitsubishi Electric Corporation, Nachi-Fujikoshi Corp., Adept Technology Pvt. Ltd., Nimak GmbH, Seiko Epson Corporation, and Yaskawa Electric Corporation, among others.
Articulated Robot Market: Regional Segment Analysis
North America
Europe

France
The UK
Spain
Germany
Italy
Rest of Europe

Asia Pacific

China
Japan
India
South Korea
Southeast Asia
Rest of Asia Pacific

Latin America

Brazil
Mexico
Rest of Latin America

Middle East & Africa

GCC
South Africa
Rest of Middle East & Africa