Free Analysis
Ethernet is a link layer protocol in the TCP/IP stack, describing how networked devices can format data for transmission to other network devices on the same network segment, and how to put that data out on the network connection. Ethernet defines two units of transmission, packet, and frame. Industrial Ethernet is the use of Ethernet in an industrial environment with protocols that provide determinism and real-time control. Ethernet/IP, PROFINET, EtherCAT, POWERLINK, SERCOS III, CC-Link IE, and Modbus/TCP are the protocols for industrial Ethernet. It is the most widely installed local area network (LAN) technology.
Globally, industrial Ethernet market has been accelerated by the rise in the implementation of the industrial internet of things. Moreover, high adoption of advanced industrial Ethernet protocols in smart factories is also fueling the growth of industrial Ethernet market. However, lack of determinism in Ethernet communication networks is considered as key restraints for the growth of industrial Ethernet market. Nonetheless, untapped market of developing countries and increased use of Ethernet with machine and robot OEMs is considered as major opportunities for the growth of this market.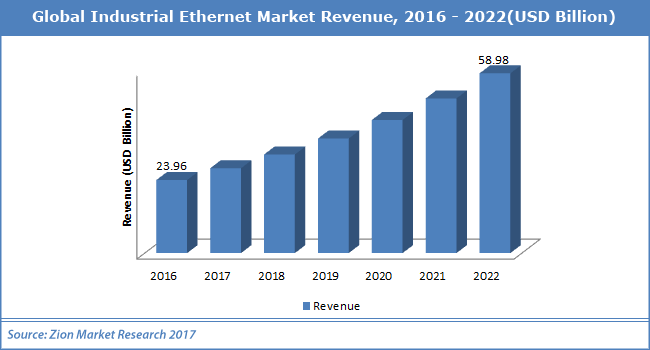 Based on protocol type, the global market of industrial Ethernet is bifurcated into Ethernet/IP, PROFINET, EtherCAT, Modbus TCP, POWERLINK, Sercos III and CC-Link IE. PROFINET was the leading segment in terms of revenue generation in 2016 in protocol type segmentation. PROFINET is the innovative standard for industrial networking in automation. PROFINET offers solutions for process automation, factory automation, and motion control. It connects devices, systems, facilitating faster, safer, less costly and higher quality manufacturing. PROFINET is designed for collecting and transferring data under tight time constraints.
Based on application, industrial Ethernet market has been bifurcated into the automotive, electrical and electronics, aerospace and defense, oil and gas, water and wastewater, food and beverages, pharmaceutical. Industrial Ethernet is also used in energy and power generation, mining, chemical, petrochemicals and fertilizers and engineering/fabrication industry. With high market share, water and wastewater segment is leading the market of industrial Ethernet. Automotive and aerospace and defense application are expected to generate new opportunities during the forecast period due to increasing investment in research and development for industrial Ethernet.
Asia-Pacific accounted for the largest market share of the global industrial Ethernet market in terms of revenue followed by Europe. The growth is attributed due to demand for consumer electronics and automobiles from countries such as China, Japan, India, and South Korea. Europe and North America are expected to show strong growth in automotive and electronics industry.
Some of the key participants involved in industrial Ethernet market include Beckoff Automation, Cisco Systems, Inc, Rockwell Automation, Schneider Electric, Siemens AG, ABB Ltd., Bosch Rexroth, ACS Motion Control, GE, Honeywell International, and Eaton.