Analysis
Immunoglobulins are glycoprotein molecules that are produced by white blood cells (plasma cells). Immunoglobulins, also referred to as antibodies, operate as a perilous portion of the immune response by precisely recognizing and attaching themselves to specific antigens, such as viruses or bacteria, and assisting in their annihilation. This antibody response is extremely complex and exceptionally specific. The amino acid configuration of antibodies differs, thereby permitting them to interact with numerous diverse antigens. The applications of immunoglobulin include disease diagnosis, disease therapy, and prenatal therapy. The numerous antibodies manufactured by plasma cells are categorized by isotype, where every single type varies in role and antigen responses chiefly due to assembly variability.
The growing incidences of autoimmune diseases, such as multiple sclerosis, primary humoral immunodeficiency, immune thrombocytopenia purpura (ITP), Kawasaki syndrome, and autoimmune hemolytic anemia, increasing geriatric population worldwide, steep rise in the cases of neurological disorders, and rising hemophilic patient numbers are likely to drive the global immunoglobulin market in the upcoming years. Technological advancements in purification and production methods along with the efforts taken by government and non-government organizations to create awareness regarding autoimmune diseases are anticipated to further fuel the immunoglobulin market over the estimated timeframe. Nonetheless, strict government guidelines related to immunoglobulin products and several side effects of immunoglobulin use might restrict the global immunoglobulin market on a global scale.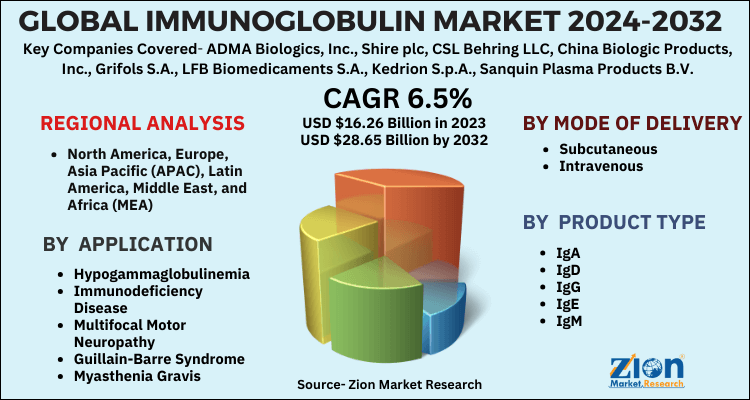 By mode of delivery, the immunoglobulin market is segmented into subcutaneous and intravenous. Subcutaneous is further segmented into 16.5% concentration, 20% concentration, and others. Intravenous is further segmented into 5% concentration, 10% concentration, and others. The application segment includes Hypogammaglobulinemia, Immunodeficiency Disease, Multifocal Motor Neuropathy, Guillain-Barre Syndrome, Myasthenia Gravis, Chronic Inflammatory Demyelinating Polyneuropathy, Idiopathic Thrombocytopenic Purpura, Specific Antibody Deficiency, Inflammatory Myopathies, and others. By product type, this market includes IgA, IgD, IgG, IgE, and IgM.
By region, the North American immunoglobulin market is likely to lead over the forecast time period. This can be attributed to the presence of a high number of major players operating in the immunoglobulin market, the existence of big plasma manufacturing units, high acceptance of modern technologies in immunoglobulin, and the region's well-established healthcare sector. Europe is anticipated to be the second largest immunoglobulin market in the future, owing to the growing geriatric population and increasing number of hemophilic patients. The maximum percentage of people aged 60 or above are in Europe. The Asia Pacific market is projected to propagate at a speedy rate over the forecast period, owing to the growing per capita healthcare expenditure, rapid advancement of healthcare infrastructure, and increased focus on research and development. The Latin American immunoglobulin market is likely to grow significantly over the estimated time period.
Some key players of the global immunoglobulin market include ADMA Biologics, Inc., Shire plc, CSL Behring LLC, China Biologic Products, Inc., Grifols S.A., LFB Biomedicaments S.A., Kedrion S.p.A., Sanquin Plasma Products B.V., and Octapharma AG, among others.?