Free Analysis
Image recognition is a software device that is used to recognize the place, object, writing, actions, machine-based tasks, etc. Image recognition mainly includes camera and artificial intelligence, which helps to complete the process of image recognition. The image-based virtual tasks and barcode scanning are two primary tasks performed by the image recognition software device. Furthermore, self-driven cars and handling robot systems also use the image recognition system.
Image recognition technology is used in various applications including advertising, automation of factory and malls, security surveillance, monitoring purpose, etc., which is the primary growth factor of the global image recognition market. Several key players are working on image recognition software to develop their own software application that has advanced security features and data surveillance. Key players, such as Google, Facebook, etc., are investing majorly in advancing their research and development activities related to image recognition technology, which is also fuelling this global market. However, technological issues and the lack of awareness about image recognition system may restrain the global image recognition market.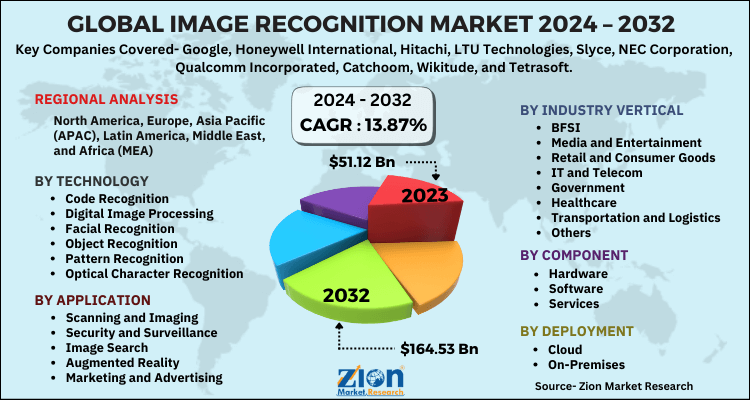 The global image recognition market is divided based on technology, component, application, deployment, and industry vertical. By technology, the global image recognition market includes code recognition, digital image processing, facial recognition, object recognition, pattern recognition, and optical character recognition. The facial recognition segment is predicted to account for a significant share of the global market, due to its various applications for non-law and law enforcement. For example, west Australia implemented digital image processing on the purchase of alcoholic beverages by individuals. The component segment of the market includes hardware, services, and software. By industry vertical, the global image recognition market is classified into BFSI, media and entertainment, retail and consumer goods, IT and telecom, government, healthcare, transportation and logistics, and others. The media and entertainment segment accounted for a dominant share in the global market in 2018. Cloud and on-premises comprise the deployment segment of the market. By application, the global image recognition market is classified as scanning & imaging, security and surveillance, image search, augmented reality, and marketing and advertising. The security and surveillance segment accounted for the dominant market share, owing to the technological benefits like security and protection of virtual data and forensic identification.
By geography, the North American image recognition market is projected to grow substantially over the forecast time period, owing to the growing use of image recognition in malls, e-commerce platforms, and government work and increasing investments made for technological developments.
Some key players of the global image recognition market are Google, Honeywell International, Hitachi, LTU Technologies, Slyce, NEC Corporation, Qualcomm Incorporated, Catchoom, Wikitude, and Tetrasoft.