Free Analysis
Household cleaners are some of the most widely purchased consumer products. Household cleaners have become a day to day necessity in every house. The class of products is extremely diverse, ranging from general purpose cleaners, some of which are advertised for virtually any cleaning job, including the family dog, to specialized cleaners, such as glass cleaners or tub and tile cleaners. The ingredients found in this class of products are also diverse, ranging from simple soap to proprietary formulations of petrochemical surfactants, solvents, and complexing agents. During the manufacturing of household cleaners, the manufacturer has to consider the performance of the product, the safety of the ingredients for users, and the costs of the ingredients.
Household cleaners market is expected to witness robust growth in the near future. The market is mainly driven by increasing consumption of household cleaners coupled with increasing urbanization in developing countries, especially in Asia Pacific region. Increasing use of household cleaners as fabric refreshers and surface deodorizers is also projected to boost the household cleaners market. Moreover, large varieties of household cleaners available in the market at lower prices are expected to propel the market growth over the years to come. However, environmental issues associated with the harmful composition of household cleaners along with increasing competition from local manufacturers mostly in Asia Pacific region may hamper the market growth within the forecast period. However, increasing research and development for development of eco-friendly products is expected to open up new growth avenues in the near future.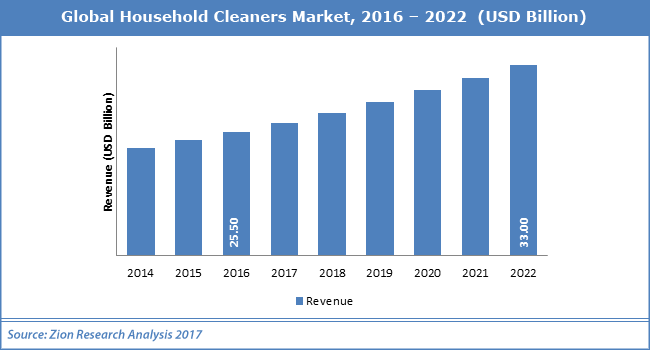 Household cleaners market can be categorized on the basis of products into specialty cleaners, surface cleaners, and bleaches. Specialty cleaners segment accounted for largest share of this market in 2016. Specialty cleaners segment held for more than 50% share of total household cleaners market. Specialty cleaners are used for sanitation cleaning and as a result of increasing sanitation standards in developing countries across Asia Pacific region, specialty cleaners market is expected to hold its market position during the forecast period. The surface cleaners segment is expected to register fastest growth rate during the forecast period. The bleach segment is expected to show stagnant growth as a result of the harmful composition of most bleaches.
Based on application, the household cleaners market can be segmented into kitchen cleaners, floor cleaners, bathroom cleaners, fabric care, and other household cleaners. Among all the household cleaners, floor cleaners and bathroom cleaners are expected to show substantial growth in the years to come. While fabric care segment is expected to grow at the highest CAGR during the forecast period.
By geography, North America generated high demand for household cleaners, which accounted for the largest market share of overall consumption in 2016. North America market was followed by Europe. These two markets collectively held around 60% share of global household cleaners market. Asia-Pacific is projected to be the fastest-growing market during the forecast period followed by Latin America. Asia Pacific market is mainly driven by increasing demand from China and India. While Latin America market is driven by growing demand for household cleaners especially from Brazil. The Middle East and Africa household cleaners market is also expected to grow at a moderate growth rate during the forecast period.
Some of the key players operating in this market such as Henkel AG & Company KGaA, Godrej Consumer Products, S.C. JOHNSON & SON INC., The Clorox Company Reckitt Benckiser Group plc, Bombril S.A, McBride, Kao Corporation, Church & Dwight Co. Inc., Colgate-Palmolive, Unilever, Procter & Gamble, Seventh Generation and others.