Free Analysis
Hospital asset management refers to the managing hospital's machinery and equipment and tracking assets like mobile beds and wheelchairs, which are used across departments or hospital floors. It also helps in the management and protection of hospital equipment, to manage the machinery and equipment; it uses automated software systems to monitor the hospital campus environment. Hospitals are large enterprises that require lots of equipment and a large workforce in various departments. Therefore, tracking everything becomes a complex task, especially, in hospitals, where serious emergencies can occur at any moment. Thus, it becomes highly essential to keep a track record so that critical equipment can be found when required. Equipment management and tracking solutions play a significant role in enabling an efficient operation in hospitals with optimized use of materials and workforce.
The global hospital asset management market is expanding rapidly, due to the improvement and optimization of workflow, productivity, safety, reduction in stock, and higher returns on investment. Furthermore, the increasing demand for security in hospitals and effective management with optimized expenses, decreasing prices of RFID, rising number of strict regulatory requirements as a good quality practice, and flourishing pharmaceutical, medical device, and biopharmaceutical industries are also driving this market. Moreover, the growing adoption of asset management solutions by healthcare service providers also contributes to the growth of global healthcare asset management market. However, the high costs of RFID tags and even higher implementation costs may hamper the global hospital asset management market in the future. Alternatively, the hospital asset management market is likely to experience better growth potential due to reducing equipment costs and the availability of new technologies.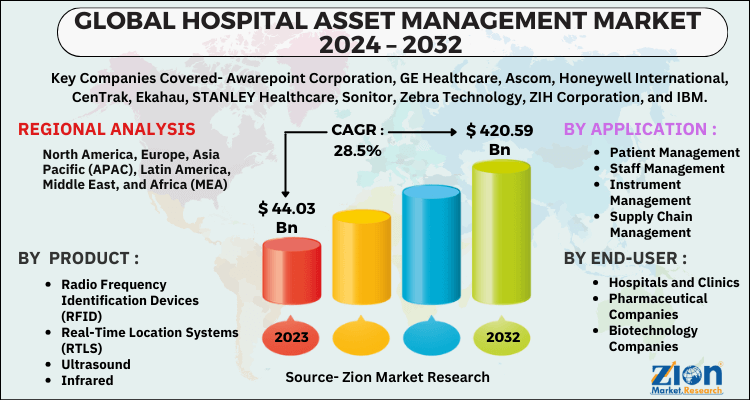 The global hospital asset management market is fragmented on the basis of product, application, and end-user. Based on product, the market is classified into radio-frequency identification devices (RFID), real-time location systems (RTLS), infrared, and ultrasound. The RFID segment is expected to hold the largest share in the global hospital asset management market, due to the increasing use of RFID devices by biopharmaceutical and pharmaceutical sectors to manage the supply chain system effectively. Based on application, the market includes patient management, supply chain management, staff management, and instrument management. Based on end-user, the market includes hospitals and clinics, pharmaceutical companies, biotechnology companies, and others.
By geography, North America dominated the global hospital asset management market in 2018, due to the established IT infrastructure, rising concerns about patient safety, and technological advancements related to RFID and RLTS. The Asia Pacific hospital asset management market is being driven by the developing countries like India and China that are experiencing rapid digitalization in the healthcare sector due to constant support from government and growing demand for better healthcare.
Some major participants of the global hospital asset management market are Awarepoint Corporation, GE Healthcare, Ascom, Honeywell International, CenTrak, Ekahau, STANLEY Healthcare, Sonitor, Zebra Technology, ZIH Corporation, and IBM.