Analysis
Hemp seeds are obtained from the hemp plant, such as Cannabis sativa. Hemp is usually confused with marijuana, as it belongs to the same family; the two plants are quite different from each other. Hemp seeds consist of less than 1% of the psychoactive drugs, whereas marijuana comprises more than 20%. Hemp seeds are a natural assortment of easily digested proteins, amino acids, essential fats, iron, fibers, antioxidants, and vitamins. Hemp seeds are safe and healthy for consumption. They are the most nutritious seed produced across the globe due to their rich protein content. Hemp seeds are one of the most potent foods available, which support an individual's optimal health. Raw hemp offers a broad spectrum of health benefits, which includes increased and sustained energy, weight loss, rapid recovery from chronic injury or disease, lowered cholesterol and blood pressure, decreased inflammation, enhanced blood circulation, and stronger immune system. These seeds further help in controlling the body's natural blood sugar level. The rapidly growing global population base and rising disposable income of people are likely to generate a high demand for better quality personal care products, cosmetics, protein supplements, and various other health products. As hemp seeds are used in these applications, this high demand for quality products is expected to positively impact the global hemp seeds market growth over the forecast time period. The aforementioned factors are expected to drive the global hemp seeds market growth over the forecast time period.
Based on type, the hemp seeds market is fragmented into hulled hemp seed, whole hemp seed, hemp protein powder, hemp seed oil, and others. Based on application, the market is segmented into nutritional and wellness supplements, food and beverages, pharmaceuticals, cosmetics, and others. By distribution channel, the global hemp seeds market includes e-commerce, specialty stores, pharmacies, and others.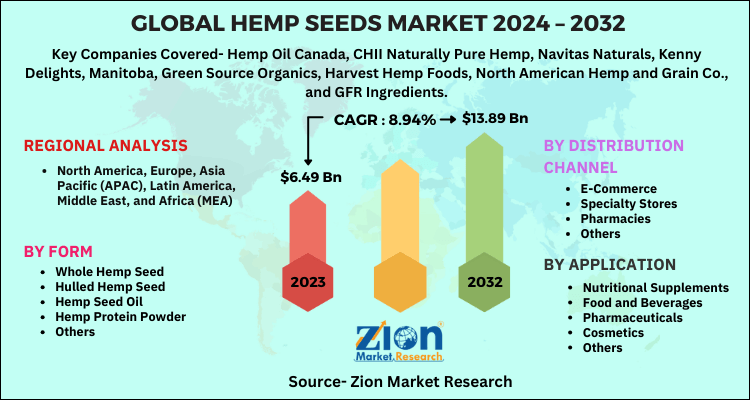 By region, North America contributed major revenue share to the global hemp seeds market in 2018. Europe accounted for a significant share in 2018 in the global hemp seeds market, due to the rising use of hemp seeds in various applications, such as personal care, cosmetics, and food and beverage. The Asia Pacific hemp seeds market is predicted to register the highest CAGR over the estimated timeline, owing to the increasing demand for hemp seeds from developing countries of China and India. Moreover, the rising consumer awareness regarding the health and nutritional benefits of hemp seeds is also expected to further drive the hemp seeds market growth in the future.
Some key players operating in the global hemp seeds market include Hemp Oil Canada, CHII Naturally Pure Hemp, Navitas Naturals, Kenny Delights, Manitoba, Green Source Organics, Harvest Hemp Foods, North American Hemp and Grain Co., and GFR Ingredients.