Analysis
Hemostasis is the process which helps to stop the bleeding from a cut or injury. Hemostasis products are designed to cease bleeding and hemorrhage caused by injuries and surgical procedures. Hemostasis involves forming a clot at the site of the damaged blood vessel and repairing the blood vessel. These products vary based on their ease of application, mechanism of action, adherence to tissue, composition, immunogenicity and cost.
The hemostasis product market is mainly driven by increasing demand supported by the rise in a number of surgery volumes. Furthermore, increasing geriatric population base coupled with rising incidences of chronic conditions are other impact hemostasis product market. According to the CDC statistics, more than 45% of the American population suffers from at least one chronic condition requiring important care. On the other hand, slow adoption of advanced hemostasis devices in emerging economies and the high cost of devices are expected to curb the market growth within the forecast period. Nevertheless, emerging market in developing countries is expected to open up new growth opportunities over the next few years.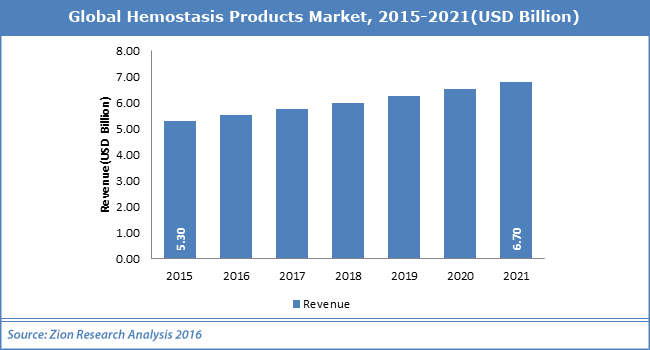 Based on products, the hemostasis product market can be segmented into topical hemostasis, infusible hemostasis, and advanced hemostasis. The topical hemostasis are further classified into collagen, oxidized regenerated cellulose, gelatin, and polysaccharide. Infusible hemostasis includes platelet concentrates from donor blood, FVIII derived from blood, fresh frozen plasma, and prothrombin complex. In 2015, hemostasis product market dominated by topical hemostats segment. Topical hemostatis are generally used in adjunction with conventional treatment to provide minimal tissue reactivity, quick and easy absorbability of the hemostatic agent, and cost-efficiency. Moreover, infusible hemostasis and advanced hemostasis segments are anticipated to exhibit significant growth in the coming years.
The hemostasis product market can be segmented on the basis of applications such as trauma, surgery, hemophilia, myocardial infarction, stroke, and thrombosis. Surgery segment was the largest segment in 2015. Bleeding control is an important aim in surgery. Thus, this segment is expected to witness substantial growth during the forecast period. Trauma was another key outlet of this market and is anticipated to show strong growth in the years to come. More than 80% of trauma deaths that occur in the operating room do so as a result of hemorrhage. Traumatic injury is a major global health problem, accounting for approximately 1 in 10 deaths worldwide.
North America held the largest market share for hemostasis products in 2015. The dominance of the region was primarily due to increase health expenditure and technological advancement to provide innovative products. The increase in numbers of trauma cases and complex surgeries, growth geriatric population and high investment is research and development is also driving the hemostasis products market in North America. North America was followed by Asia Pacific which was another leading regional market in 2015. This growth is mainly due to increase aging population and advanced healthcare facilities. Latin America is also projected to expand at a noticeable growth rate during the forecast period.
Some of the key players operating in this market such as Pfizer, Inc., Medtronic plc, Abbott Laboratories, Johnson & Johnson, Integra LifeSciences Corporation, HemCon Medical Technologies, Inc., Grifols, S.A., CSL Behring LLC, C. R. Bard, Inc. and Baxter International, Inc.