Free Analysis
The global textile business is shifting rapidly toward the manufacturing of high value-added textile structures and products, such as healthcare textiles, smart textiles, and protective textiles. Healthcare fabric is invented by the application of medical science in the textile industry and technology. It is used basically for healthcare or medical purposes. The expansion of newest and technologically advanced fabrics is leading to the introduction of new zones of application of healthcare fabrics. Healthcare fabric is one of the rapidly growing segments in the technical fabrics market.
The high demand for modern technologies is increasing, owing to the economic growth of different countries across the world, rise in population, rising disposable income, changing standards of living, and the swift expansion of the medical science sector. The augmenting population and increasing awareness about various products are anticipated to among the major driving factors for the healthcare fabrics market expansion globally in the future.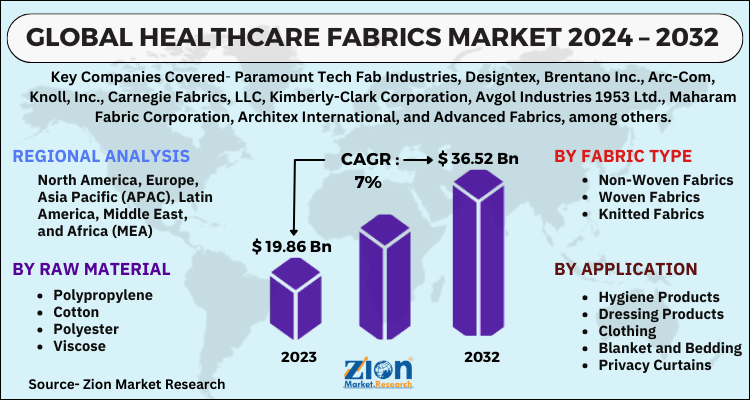 The global healthcare fabrics market is segmented on the basis of raw material, fabric type, and application. Based on raw material, the market is segmented into polypropylene, cotton, polyester, viscose, polyamide, and others. The polypropylene segment is slated to hold a major share of the global healthcare fabrics market in the future, owing to the escalating demand for hygiene products in developing economies. By fabric type, the market includes non-woven fabrics, woven fabrics, and knitted fabrics. By application, the market is segmented into hygiene products, dressing products, clothing, blanket and bedding, blanket and bedding, upholstery, and others (orthopedic appliances, surgical hosiery, and adult diapers).
By region, Europe is expected to remain the dominating region in terms of revenue over the forecast timeline, owing to the high adoption of healthcare fabrics and favorable government regulations. North America was the second largest market in 2018 followed by the Asia Pacific region. The Asia Pacific healthcare fabrics market is anticipated to record the highest growth over the forecast timeline, owing to the growing healthcare awareness among the regional population, rising disposable income of the people, and favorable government initiatives. The Latin American and the Middle Eastern and African markets are expected to experience moderate growth in the years to come.
Some key players of the global healthcare fabrics market are Paramount Tech Fab Industries, Designtex, Brentano Inc., Arc-Com, Knoll, Inc., Carnegie Fabrics, LLC, Kimberly-Clark Corporation, Avgol Industries 1953 Ltd., Maharam Fabric Corporation, Architex International, and Advanced Fabrics, among others.