Free Analysis
Chatbots are artificial intelligence systems capable of conducting a conversation using textual or auditory methods. Chatbots pass the Turing test as they simulate human behavior during a conversation. Chatbots are defined as the most innovative and encouraging expressions of communication between individuals and machines. Chatbots restructure interactions among people and facilities along with improving the consumer experience. Chatbots are gaining immense popularity in the healthcare for making the lives of patients easier.
The increasing penetration of high-speed internet, rising adoption of smart devices, growing need for automated health assistance, increasing awareness regarding technological usage in healthcare, and implementation of cloud-computing systems are likely to drive the global healthcare chatbots market in the future. The number of global internet users has grown exponentially in the last two decades. In countries, such as Bangladesh and Nigeria, the rise in internet users is as huge as 40,000%. China has maximum internet users in the world, followed by India and the U.S. The development of chatbots that are oriented on social media, development of cloud-based models, technological improvements in healthcare chatbots are anticipated to further fuel the healthcare chatbots market globally in the upcoming years. However, data privacy issues, the absence of expertise for the development of chatbots, and misconceptions regarding chatbots coupled with lack of awareness might restrict the growth of healthcare chatbots market on a global scale.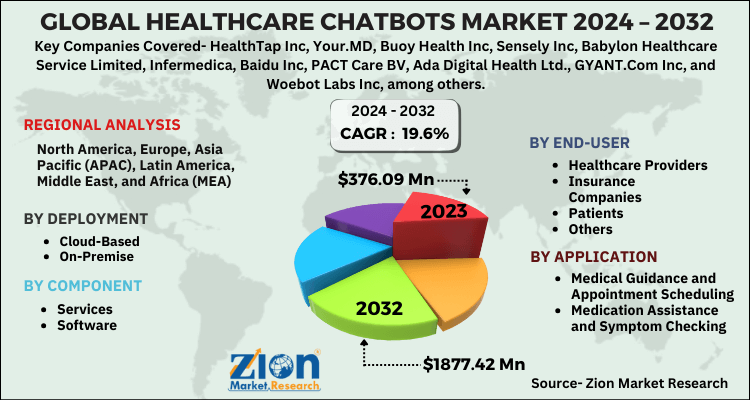 The global healthcare chatbots market is fragmented based on the deployment model, component, end-user, and application. By deployment model, the healthcare chatbots market is bifurcated into cloud-based and on-premise. The component segment includes services and software. The end-user segment includes healthcare providers, insurance companies, patients, and others. By application, this market includes medical guidance and appointment scheduling and medication assistance and symptom checking.
By region, Europe is likely to be the leading region over the forecast time period. This can be attributed to the high internet penetration rate, the presence of the second highest number of internet users in the world (around 16%), increasing collaborations between healthcare providers and vital industry players, and increasing awareness regarding the benefits of healthcare chatbots. North America is anticipated to emerge as the second largest market for healthcare chatbots, owing to the constant innovations in the field of healthcare, early adoption of innovative smart healthcare products, and the availability of latest healthcare infrastructure. The Asia Pacific is projected to propagate at speedy rate in this global market over the forecast time period due to the presence of the highest number of internet users (around 49%), increasing awareness regarding the use of chatbots in the healthcare sector, and increasing per capita healthcare infrastructure.
Some key players of the global healthcare chatbots market are HealthTap, Inc., Your.MD, Buoy Health, Inc., Sensely, Inc., Babylon Healthcare Service Limited, Infermedica, Baidu, Inc., PACT Care BV, Ada Digital Health Ltd., GYANT.Com, Inc., and Woebot Labs, Inc., among others.