Analysis
The global handheld imagers market is anticipated to witness considerable growth on account of growing adoption in untapped application areas. New innovative products have significantly offered the scope for handheld imagers in several application sectors. Increasing demand across security industry is predicted to be the key force driving the handheld imagers market over the forecast period. Rising usage of amorphous silicon (a-Si) in manufacturing imaging solutions is also anticipated to favorably impact market growth. Amorphous silicon is used as a raw material due to its cost-effectiveness and ease of manufacturing.
Technological innovation has led miniaturization and development of lightweight handheld imagers, which is expected positively impel market growth over the forecast period. Availability of cost effective handheld imagers due to mass production and a wide range of special applications integrating this technology are anticipated to be the key market drivers. However, the high maintenance cost of the scanner and low speed of hand held imagers (scanner) can restrict the growth of the market.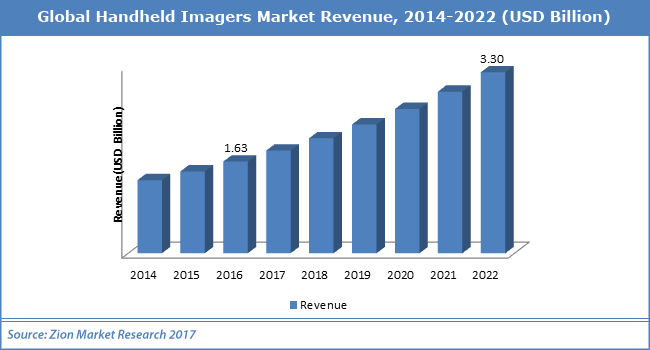 Hand held imagers market is segmented on the basis of product, application, and region. On the basis of product, the market is divided into stud finders, IR scanners, millimeter wave scanners and microbolometers. Declining cost of microbolometers is expected to spur the demand for hand held imagers during next five years. IR scanners exhibit high growth potential which may be primarily attributed to declining in product prices. Further, stud finders are also anticipated to witness rapid growth owing to growing demand across the construction sector. Based on the application the market is bifurcated into industrial, medical, security and other applications. Because of growing security concerns and rising terror threats, the security application segment is expected to dominate overall market. Increased adoption in government buildings, airports and rising security concerns is expected to significantly spur the handheld imager's demand over the next few years.
North America accounted for largest revenue share and is projected to emerge as a dominant market over the forecast period. Due to government mandates and growing concerns reagrding security are expected to fuel the regional market demand. Hand held imagers have a significant presence in Europe which is expected to record rapid growth in coming years.
Key players of handheld imagers market include C.H. Hanson., DRS Technologies, FLIR Systems, Fluke Corporation, Franklin Sensors, Raytek, Sago Systems, Stanley Black & Decker, BAE Systems, Bosch, C.H. Hanson, Defence and Security Equipment International and Zircon Corporation, among others.
The prominent players are continuously innovating and evolving in order to uphold competitiveness in the market. Further, manufacturers emphasize on enhancing local presence in order to aid customers in choosing the appropriate product.