Analysis
Hadoop helps to turn the huge amount of business data generated on a daily basis into a competitive advantage. Hadoop is a software framework that provides framework to deal with big data. Hadoop helps businesses to store and process massive amounts of data. It basically handles the big data analytics for enterprises. It is fastest and efficient software to meet real-time analytics from data such as audio, video, email, machine-generated data from the internet.
Hadoop is useful for scalable storage platform as it can store and distribute the very large amount of data sets across hundreds of inexpensive servers which operate in parallel. Another benefit of Hadoop is cost effective storage solution for businesses. There was the problem with traditional relational database management systems that is extremely cost prohibitive to scale to such a degree in order to process such massive volumes of data. To reduce costs, many companies in the past would have had to down-sample data and classify it based on certain own assumptions as to which data was valuable. Lots of raw data have been deleted, as it would be too cost-prohibitive to keep. While this approach only may have worked in the short term, this meant that when business priorities changed, then complete raw data set was not available, because it was too expensive to store. Hadoop, solve this problem and is designed as a scale-out architecture that can affordably store all of a company's data for later use.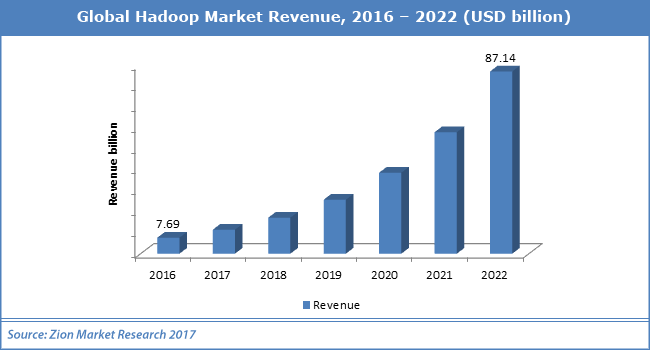 Increasing amount of data utilization and growing rapid volume for structured data and unstructured data across large industries a key driver of global hadoop market. Hadoop helps to analyze life threatening risk, identifies warning signs of security breaches, prevent hardware failure, and estimatewhen to sell certain products, find ideal prospects for business and gain insight from vast data.
Hadoopis utilized by many industries such as healthcare, banking & finance, manufacturing, media and entertainment, biotechnology, defense, IT,telecommunication, retail, food & beverage, government sector and others. This factor also anticipated to accelerate the demand for hadoop solution over the verticals across the globally. However, distributed computing and security issues may limit the utilization of hadoop software. Moreover, ongoing development and up gradation may open new opportunities for hadoop market.
The study provides a decisive view on the Hadoop Market and it is segmented on the basis of type, end user and regional.Some of the major participants operative in hadoop market includesTeradata Corporation, Amazon Web Services, IBM Corporation Cisco Systems, Cloudera, Inc., Datameer, Inc., Hortonworks, Oracle Corporation, Inc., VMware, OpenX, and amongst others.
The study provides a decisive view on the hadoop market and it market is segmented on the basis of type, end user and regions. In type segment, services segment is dominating with maximum market share of the global hadoop market on account of growing demand of data analysis across various industries. It is also further expected to continue its dominance in the market for the coming five years.
On the basis of geography market is segmented on the basis of North America, Europe, Asia Pacific Latin America and Middle East and Africa.North America dominated hadoop market in 2016. It contributes around 48% share of the entire market and it is also predicated to continue this trend for the coming years. Asia Pacific is fastest growing region for hadoop market due to emerging IT and telecommunications industries and adoption of technology is rising at torrid pacein China and India. Europe is likely to witness significant growth in upcoming time.