Free Analysis
Graphic Films is mainly used as a premier custom coater of pressure sensitive materials for the offset, screen, industrial & specialty, and digital markets. Graphic films have wild applications such as in an anti-graffiti, advertisement, promotional banners, and pamphlets applications. Moreover, graphic films could be progressively used for developing promotional banners and vehicle wraps. When compared to traditional films, graphic films are expected to be the most cost-effective option.

In addition, compared to conventional types of films, graphic films are expected to be a cost-effective substitute. The lifestyle of consumers as a result of improving purchase power and technological developments is anticipated to be responsible for the further growth of the market.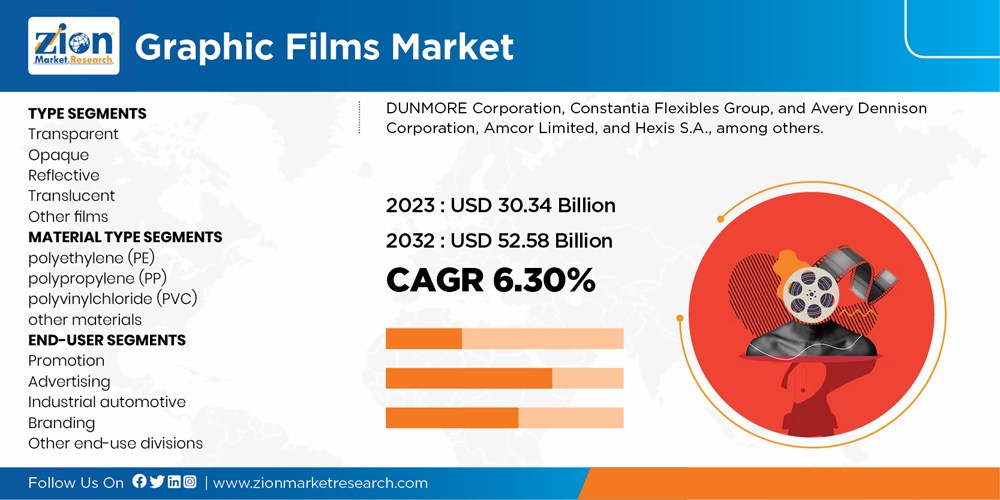 Rising promotional trends observed in the e-commerce sector boost the demand of graphic films market. However, industry players could find favorable growth in future and also other sectors such as automotive, promotion and branding, retail and construction. While this possibly will help the market to strike with its growth, there are certain other forecasts projected to take shape with the growing application of opaque films. Such types of films can be significantly demanded because of their high durability, excellent printability, lightweight, and ease of use.
Graphic films market can be segmented based on type of film the market is bifurcated into opaque, transparent, translucent, and reflective and other films, based on type of material market is bifurcated into PVC, polypropylene (PP), and polyethylene (PE) and other materials, based on end use the market is bifurcated into automotive, promotion, advertising, and branding, and industrial and other end-use sectors, based on Region market is further bifurcated into North America, Europe, Asia Pacific, Latin America and the Middle East and Africa.
The Asia Pacific accounted for most of the global market share and is expected to grow in light of the increase in disposable, increasing population, rapid urbanization, and income capability of constituent nations like India, China, and Japan. In 2016, International Monetary Fund (IMF) acknowledged that the economy of Asia Pacific grew by more than 5% and is anticipated to grow further during the forecast period, thus graphical film business is lucrative in Asia-Pacific market.
North America is expected to witness strong growth over the forecast period for graphic films from the automotive industry. Due to exposure of sun for a long duration of time vehicle starts heating resulting in reduces fuel efficiency. Application of graphic films provides with sufficient protection from UV rays
The major players operating in the graphic films market are DUNMORE Corporation, Constantia Flexibles Group, and Avery Dennison Corporation, Amcor Limited, and Hexis S.A., among others.