Free Analysis
A gas meter is a specific flow meter utilized to measure a number of fuel gases such as liquefied petroleum gas and natural gas. The volume of gas absorbed in cubic meters or cubic feet even though consumers are billed in kilowatt hours (kwh). The gas meters could only be utilized within operating temperature limits and overpressure listed on the data sheet. The quality of the gas flowing through the meter or pressurized quantity measure a describe volume by gas meters. Temperature, heating value and pressure must be made to measure actual amount and value of gas moving through a meter
The gas meters are segmented on the basis of type, technology, and end users. On the basis of type, the global gas market is segmented into turbine gas meter, ultrasonic gas meter, diaphragm gas meter, and rotary gas meter. Diaphragm gas meter market segment held the largest market share due to huge demand across the globe. On the basis of technology, gas meter market is segmented into smart & automated and conventional. The conventional segment is estimated to account for the largest gas meter market share among all the applications. On the basis of end users, gas meter market is segmented into residential, commercial, and industrial. Residential segment held the largest market share due to huge demand across the globe for the growth of gas meter market.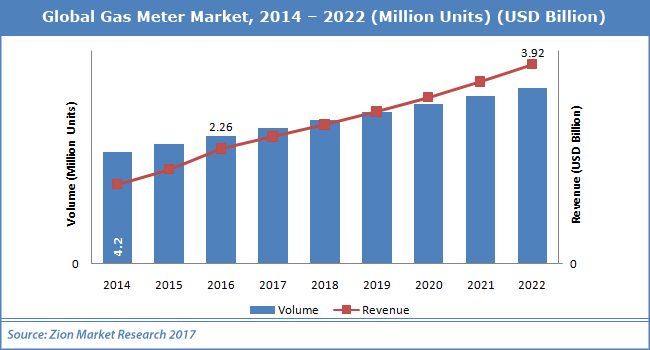 Increasing demand for smart equipment to observe supply of fuel in the energy industry and industry members are investing deeply in R&D drive is expected to remain major driving factors for the growth in gas meter market. High installation expenses for end users could be restraining factors for the gas meter market. The global gas meter market offers new growth opportunities, due to R&D initiatives to develop greater innovative products in line with client specifications and reduce industrialized as well as operating costs. The smart gas meter is not widely established across the end-use industries at present, but are expected to observe rapid growth in future. Growing energy demand and environmental concerns have resulted in a change towards natural gas expenditure owing to its natural characteristics.
Based on regional segmentation, Asia Pacific was the most attractive and largest market for the gas meter in 2016. Developing economies including India, China and Thailand are significantly increasing the demand for industrial and domestic expenditure in last few years. In Europe, smart monitoring equipment is fueling immediate introduction of a smart meter in the domestic market. The major consumers of energy fuels are commercial and residential users in North America. Over 40% of the world's established natural reserves and consumes almost 15% of the world's production in Middle East region. In the Middle East, energy more than 50% of energy requirements is dependent on natural gas.
Some of the major players involved in the global gas meter market include ABB, Actaris, Emerson Electric, LAO Industria, Wyatt Engineering, Zenner, IMAC Systems, Elster GE Itron Landis Gyr, Schneider Electric, DIEHL Metering, Aclara and DIEHL Metering.