Analysis
Seafood is one of the most perishable food items, hence it is essential to give special care regarding its freezing until it reaches the consumer. Seafood contains high-quality protein and other essential nutrients. Seafood protein is easier to digest as seafood have less connective tissue than red meat & poultry. Seafood contains less than 5% of total fat. Seafood contains polyunsaturated fats such as omega-3 fatty acid which is not produced in the human body. It is helpful for heart disorders in human beings and is essential for brain and vision development in infants. Seafood is the natural source of vitamin D & A, and B-complex which are useful for the proper development of the nervous system & bone and healthy vision & skin. Seafood provides minerals such as calcium & iron, selenium, iodine, zinc. Selenium acts as an antioxidant and protects from cell damage. Zinc is helpful for cell growth and boosts the immune system. Iron is important for red blood cell production. Therefore, seafood is an important part of healthy and well-balanced diet.
Seafood needs to stay fresh before freezing. Frozen seafood can get spoil if it thaws while transportation. After the fish is caught guts and blood starts degrading which leads to the fishy flavor. Freezing locks the freshness, nutrients, and flavor of seafood. Frozen fish has the least carbon footprint than fresh fish. Freezing prevents bacterial growth as well as prevents from getting spoilt. Freezing seafood doesn't affect its nutritive values. Vitamins such as A & D, fats, and proteins do not get affected due to freezing.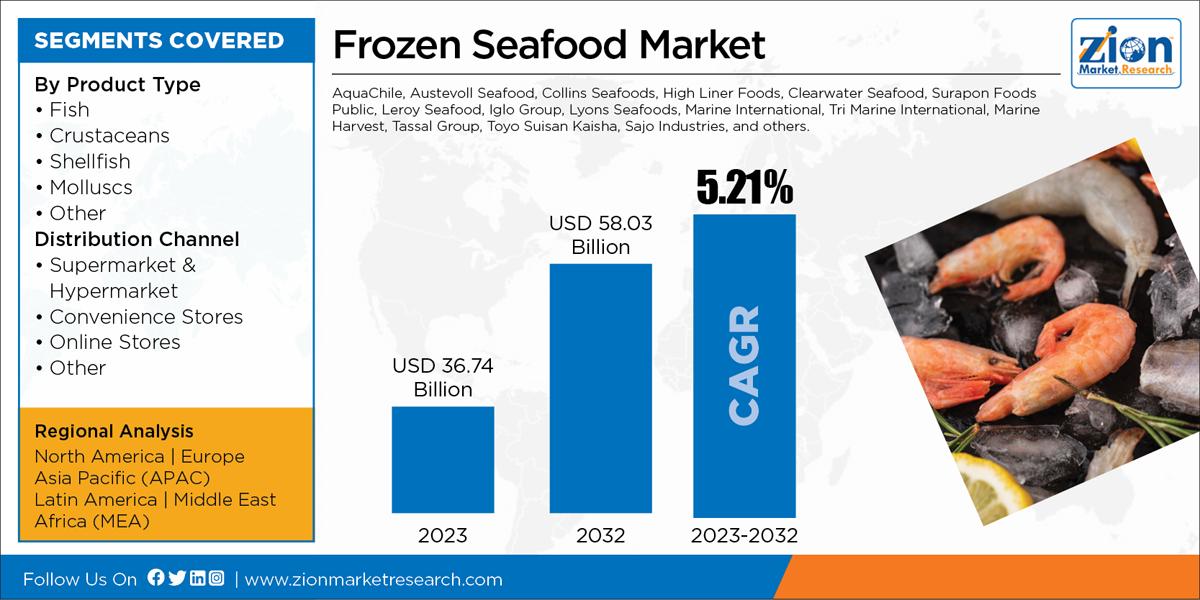 Frozen seafood product line includes fish, crustaceans, shellfish, mollusks, and others. In product segment of frozen seafood market, crustaceans are anticipated to lead the market owing to growing demand for exotic seafood coupled with high- profit margin associated with crustaceans. In terms of revenue, fish was the second largest segment after crustaceans in 2017 due to its simple storage application and easy preparation process.
On the basis of the distribution channel, the frozen seafood market is segmented into online stores, convenience stores, supermarket & hypermarket, and others. Hypermarket & supermarket segment is projected to be the dominating segment during the forecast period.
By geography, Europe held the largest market share in terms of revenue in 2017. The industry is expected to be driven by increasing demand for seafood and increasing cold storage chain in the region. Europe was followed by North America and Asia Pacific in terms of revenue. The Asia Pacific is projected to show significant growth in the years to come. This is mainly due to increasing population, urbanization, and cold chain network in the region.
Some of the key players have been investing in research & development, technological advancement, maintaining standards, and product innovation in order to retain their dominance in the market. Some of the key players in the frozen seafood market are AquaChile, Austevoll Seafood, Collins Seafoods, High Liner Foods, Clearwater Seafood, Surapon Foods Public, Leroy Seafood, Iglo Group, Lyons Seafoods, Marine International, Tri Marine International, Marine Harvest, Tassal Group, Toyo Suisan Kaisha, Sajo Industries, and others.