Analysis
The primary function of fracture fixation is to stabilize the fractured bone, enable fast healing of the injured bone, and return early mobility and full functionality of the injured body part. There are various fracture fixations products available depending on the injury type such as internal or external fixation products.Internal fixation products are used at the time surgical implants for bone repair while external fixation products are used to stabilize the bone.
The market growth of global fracture fixation products market has been accelerated by the rise in prevalence of osteoporosis and osteoarthritis propelling the demand for joint replacement surgeries. Violence, road accidents, and sports injuries are the major factors driving the growth of fracture fixation product market. However, the immunological and inflammatory reaction are expected to restrict the growth of fracture fixation product market. Nonetheless, technological advancement in the fixation products and increasing government funding and grants in the industry may offer alluring opportunities to the market growth.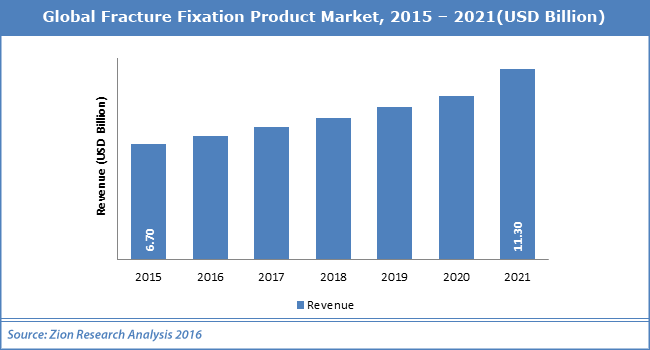 Based on the type, the global fracture fixation product market is bifurcated into internal fixation product and external fixation product.Internal fixation was the largest market in the fracture fixation product market.
On The basis of product composition market segmented under metallic fixators, bioabsorbable fixators and other. The bioabsorbable fixators are leading segment in the global market and this trend is expected to continue within the forecast period.
Major regional segments analyzed in this study include North America, Europe, Asia-Pacific, Latin America and the Middle East and Africa.The global fracture fixation product market is dominated by North America.Rising government healthcare expenditure, growing income levels and increasing population are major driving expected to contribute to the growth of fracture fixation products market in Asia-Pacific region.
Key players profiled in the report includeStryker Corporation, Zimmer Biomet Holdings,DePuy Synthes Companies, Néosteo SAS,Smith & Nephew and others.