Analysis
Formulation additives are used in small quantities to modify or improve the properties of various formulations, such as adhesives, coatings, etc. The use of formulation additives enhances the processing characteristics and properties of the materials along with improving their performance. These additives provide improved slip, better pigment dispersion, substrate wetting, anti-settling, leveling, and plasticizing. These additives are used in design coatings for the protection of building structures and segments. They are also utilized in car coatings, architectural coatings, and compositional coatings. Some major types of formulation additives include rheology modifiers, scattering operators, and defoamers.
The major factor that is likely to drive the formulation additives market in the years ahead is the increase in the use of these additives by various end-user industries, such as paints and coatings, automotive, construction, electronics, furniture, printing, and packaging. Rapid industrialization and the increase in construction activities across the world are anticipated to further boost the demand for these additives, especially in emerging economies, such as China and India. Owing to the characteristics of these additives, such as optimum depth, good substantively, and better light fastness, these additives are significant in various coating applications. This, in turn, is projected to fuel this market's growth over the forecast time period. Furthermore, high sales and production of automobiles across the world that uses formulation additives in car coatings is anticipated to positively influence this market's growth in the future. However, the fluctuating raw material prices might restrain this market's growth over the forecast timeframe.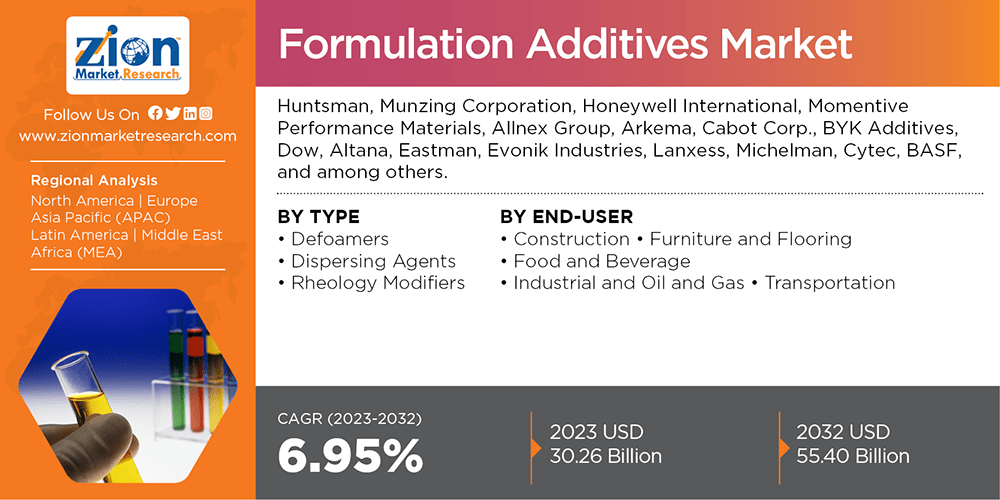 On the basis of type, the formulation additives market is segmented into dispersing agents, rheology modifiers, and defoamers. Rheology modifiers are anticipated to hold the largest market share over the forecast time period, as they are main ingredients in coatings, paints, and inks. By end-user, the market is categorized into furniture and flooring, construction, food and beverage, transportation and industrial and oil and gas.
By region, the global formulation additives market includes North America, Latin America, Asia Pacific, Europe, and the Middle East and Africa. The Asia Pacific dominated this global market in 2018 and is anticipated to be a market leader in the upcoming years as well. This regional dominance can be attributed to the growing demand for formulation additives by various end-user industries and the expansion of transportation and construction industries, especially in the emerging countries of China and India. The North American formulation additives market is anticipated to register the highest CAGR over the forecast time period, owing to the high demand for formulation additives by electronics, automotive, and construction industries across the region.
Some major players of the global formulation additives market are Huntsman, Munzing Corporation, Honeywell International, Momentive Performance Materials, Allnex Group, Arkema, Cabot Corp., BYK Additives, Dow, Altana, Eastman, Evonik Industries, Lanxess, Michelman, Cytec, and BASF, among others.