Free Analysis
A procedure of food product authentication in order to ensure safety and decrease threat of contamination causing food borne illness is food safety testing. Food safety testing is an essential process for maintaining food quality and safety. Governments around the world have hugely extended their emphasis on food safety. The development of the worldwide food industry is dependent on food testing mechanism; improper food testing mechanism can increase the risk of foodborne diseases.
The worldwide food safety testing market is gaining importance owing to the occurrence of foodborne diseases globally. The major driving factor of the global food safety testing market is the increase in microbial contamination of food. Furthermore, growing global food opportunities, rising food mislabeling cases, strict government rules and regulation on food testing mechanism can fuel the food safety testing market. Lack of awareness about food safety in various developed as well as developing countries and inadequate government regulations is likely to hinder the growth of this market.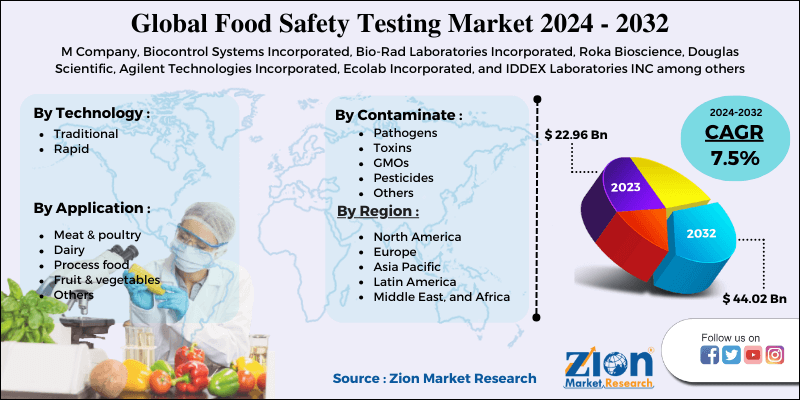 Food safety testing market is segmented based on technology, contaminant, application, and by region. On the basis of the technology, market is classified into traditional and rapid technology. Rapid technologies are dominating the food safety testing market because traditional techniques are labor demanding and time-consuming. Rapid technologies accounted for the significant share in food testing market. Contaminant segments of food testing market are pathogens, toxins, GMOs, pesticides and others. Among all contaminant, segment pathogens are led to increasing in food borne illness than another contaminant. Meat & poultry, dairy, process food, fruit & vegetables and others are application segment of food safety testing market. Meat & poultry segment accounted for the largest share in the market owing to the fact that highest number of sicknesses have been due to meat & poultry products. The growing utilization of processed food in both developing and developed countries is generating more opportunity for processed food testing market.
Geographically, the market has been segmented into North America, Europe, Asia-Pacific, Latin America, and the Middle East & Africa, further bifurcation of the region on the country level, which includes U.S., Germany, UK, France, China, Japan and India. North America was leading segment of food safety testing market followed by Europe. In North America Canada is the largest revenue contributor for global food safety testing market due to extremely stringent regulations on food testing. Asia-Pacific region is expected to witness significant growth in upcoming years. The Middle East and Africa are emerging market for food safety testing market due to awareness in consumers and outbreaks of food poisoning in this region.
Some of the key players in the global food safety products market and food safety testing market are Biocontrol Systems Incorporated, 3M Company, Roka Bioscience, Bio-Rad Laboratories Incorporated, Agilent Technologies Incorporated, Douglas Scientific, IDDEX Laboratories INC, and Ecolab Incorporated.