Analysis
Flexible workspace, also known as shared flexispace or office space, is an alternative solution to traditional offices, which makes the possibility to implement versatile space solutions affordable for companies. These types of office spaces come with basic equipment like desks, phone lines, chairs, etc., which allows employees to work normally from home or telecommute to have a physical office for a few hours on a weekly or monthly basis. Unlike traditional offices, the allocation of space in flexible workspaces is not fixed, thus businesses can maximize their time-efficient solutions and cost like mobile working.
Corporate organizations look for more agile and larger workspaces, which is symptomatic of a global move towards more flexible lease terms. In 2018, the "Space as a Service" model was accountable for some of the major flex deals in London and New York, which also included big brands like Amex, Microsoft, GSK, IBM, Facebook, and Adidas. Additionally, there has been a rise in the number of landlords in the U.S. and Asia that are collaborating with providers and launching their own co-working spaces. This trend is already seen in Europe but is yet to take off. As the demand type is constantly changing and the value of occupiers in these flexible spaces is increasing, leading operators are likely to become more competitive and offer huge discounts in the key regions to gain maximum share of the flexible office market. The forecast suggests that in such a competitive environment, operators will be willing to offer 22% or more discount on the advertised rates to gain maximum share of the flexible office market.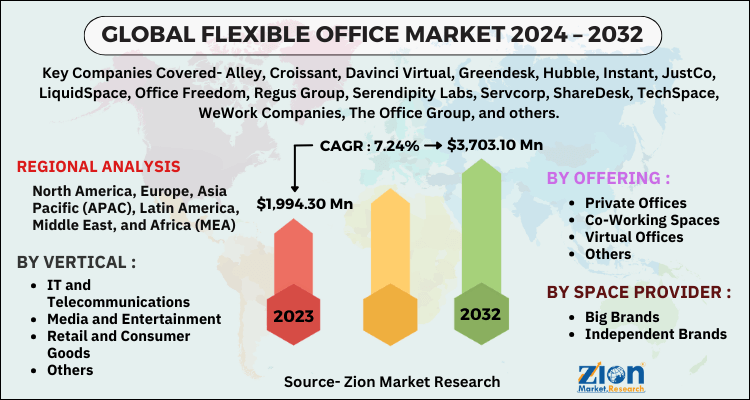 The flexible office market is fragmented on the basis of offering into virtual offices, co-working spaces, private offices, and others. By space provider, the flexible office market includes big brands and independent brands. Based on vertical, the flexible office market comprises retail and consumer goods, media and entertainment, IT and telecommunications, and others.
Europe dominated the flexible office market in 2018. However, market rates in the U.S. are by far the most expensive globally. Co-working has quickly invaded the flexible workspace markets in key cities in the U.S., with an average of 38% of space are now labeled as co-working spaces in Los Angeles, New York, San Francisco, and Chicago. Each of these cities has shown high growth rates, i.e., more than 20%, in the past years in spite of their relative maturity when compared to the other global cities. The Asia Pacific flexible office market is likely to show the highest CAGR, as the number of co-working centers and other types of flexible office spaces has grown by 38% in Australia in just five years. The increase in the demand for flexispace from both small- and large-scale businesses is also accelerating the flexible office market in the region.
Some leading players in the flexible office market are Alley, Croissant, Davinci Virtual, Greendesk, Hubble, Instant, JustCo, LiquidSpace, Office Freedom, Regus Group, Serendipity Labs, Servcorp, ShareDesk, TechSpace, WeWork Companies, and The Office Group.