Analysis
Technology and digital transformation have changed people's habits and firms' activities. In the digital world, economic, financial, and social entities depend on technological inclusions. The financial institutions have always been an early adopter of advanced technologies. Fintech is known as technologically enabled innovation that results in advanced business models, applications, products with a material effect on financial institutions. It describes the application of digital technology to financial services. Due to the growth of digital payments in recent years, Fintech companies have started to adopt blockchain technology to expand their portfolio of insurance products to cross-border remittances. Blockchain helps to exchange value over the internet and has the ability to transform multiple industrial sectors and make the processes secure, transparent, and efficient. The main benefit of the blockchain technology is its ability to share information, which is secure and provides data integrity via distributed infrastructure. Here, technology plays an important tool in developing trust among consumers and businesses, where both can provide and access accurate data about transactions.
The factors that are likely to drive the FinTech blockchain market in the upcoming years is the adoption of technologically advanced blockchain solutions in investment banks, commercial banks, and insurance companies, the increase in the cryptocurrency market cap, the rise in the initial coin offerings, and the high demand for distributed ledger technology. In addition, due to the advanced blockchain technology solutions, the transactions have become faster and secure further fueling the FinTech blockchain market globally. It also eliminates the need for intermediaries and reduces the time for payers and providers and administration costs. However, the uncertain regulatory standards and frameworks and the lack of blockchain applications and use cases might limit this market. Nevertheless, the adoption of blockchain technology for smart contracts, payments, and digital identities are likely to create business opportunities in the market.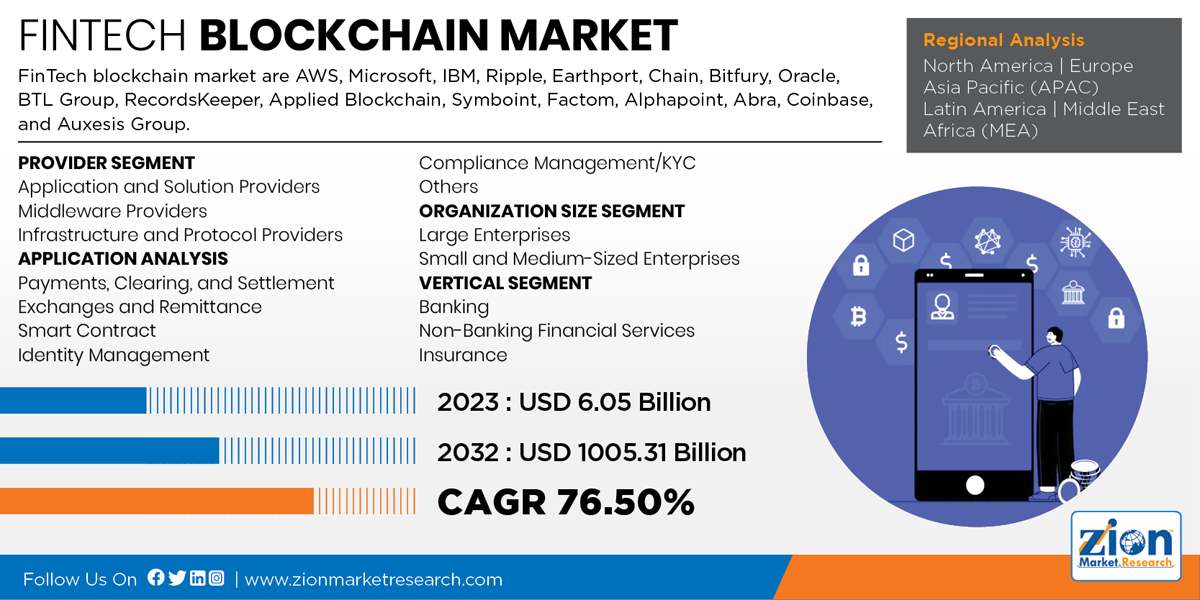 By provider, the market is fragmented into middleware providers, application and solution providers, and infrastructure and protocol providers. By application, the market is fragmented into payments, clearing, and settlement, exchanges and remittance, identity management, smart contract, compliance management/KYC, and others. By organization size, the FinTech blockchain market is segmented into small- and medium-sized enterprises and large enterprises. By vertical, the FinTech blockchain market is segmented into banking, non-banking financial services, and insurance.
Geographically, this global market is divided into North America, Europe, Asia Pacific, Latin America, and the Middle East and Africa. North America holds the largest market share, as it is among the most advanced regions in terms of technology adoption and infrastructure. The Asia Pacific is likely to witness the highest growth rate over the forecast time period, due to the rise in the investments in the blockchain technology solutions to make a change in the financial sector.
Some of the key players profiled in the global FinTech blockchain market are AWS, Microsoft, IBM, Ripple, Earthport, Chain, Bitfury, Oracle, BTL Group, RecordsKeeper, Applied Blockchain, Symboint, Factom, Alphapoint, Abra, Coinbase, and Auxesis Group.