Analysis
Erectile dysfunction (ED) is mainly the lack of ability to maintain or achieve the erection sufficiently. Aging is one of the leading factor responsible for impeding the normal function of erection. Besides, hypertension, diabetes mellitus, cardiovascular diseases, excess medications, and spinal cord injuries are some of the other factors that are found to be responsible for the cause of erectile dysfunction. However, today's medicinal products for treating erectile dysfunction are far-fetched in many ways. They are effective, safe, and have helped millions of men to regain their sexual self-confidence. In spite of the fact that ED has received attention in the recent years, only 10 to 15% men with ED have received the right treatment. There is still a large population of patients who still need medication for ED, but due to various reasons have not yet got help.
Due to the considerable rise in the revenue of erectile dysfunction drugs, over last decade, more than 31 chemical moieties have advanced in the therapeutic pipeline from which 90% of molecules or drugs are developed by companies and only 10% of these are developed by research institutes and medical universities. However, the growth in clinical trials for these molecules and drugs is still insufficient to tackle the unmet needs of treatment in low-income countries for the global erectile dysfunction drugs market. One of the challenges faced by the mid-level pharma companies is the lack of presence across the globe due to the presence of top companies leading the market for erectile dysfunction. However many companies are now implicated in the expansion of their erectile dysfunction product portfolio through joint ventures and acquisition policies. For instance, in May 2017 Lupin Ltd. launched Cialis ED drug through a licensing agreement with Eli Lilly. In this alliance, Eli Lilly will be responsible for manufacturing and importing the product in India. Some of the private equity firms are also interested in buying American Medical Systems which is one of the leading manufacturers of products used to treat pelvic disorders for both male and female, laser technology devices, and erectile dysfunction prostheses.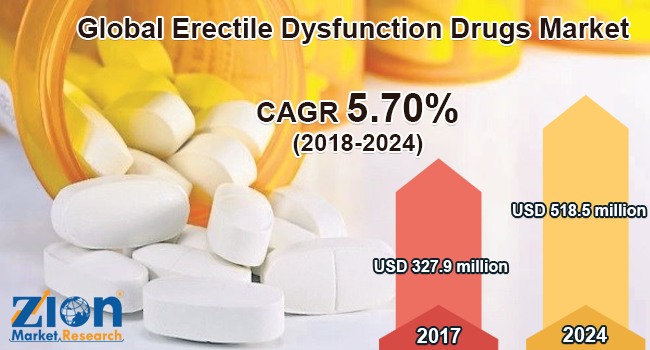 The erectile dysfunction drugs market is segmented based on the type of drug, mode of administration, and by distribution channel. Based on the type of drug, the market is segmented into Sildenafil Citrate (Viagra), Mirodenafil (Mvix), Vardenafil (Levitra/ Staxyn), Tadalafil (Cialis), Udenafil (Zydena), Stendra/ Spedra (Avanafil), Lodenafil Carbonate (Helleva), and others. Based on the mode of administration, the market for erectile dysfunction drugs is bifurcated into oral medications, topical medications, injections, and others. Based on the distribution channel, the market is segmented into online sales, hospital pharmacies, and retail pharmacies.
North America holds the largest share in the erectile dysfunction drugs market. This growth is mainly attributed to the huge number of R&D activities in the field of drug discovery carried out by this region. The region also has a large presence of a number of multinational pharma companies which carry out a large number of clinical trials and also have well developed and advanced healthcare infrastructure. Due to high healthcare investment and rising government funding Europe also holds a maximum share of the market followed by North America. Numerous big names are actively involved in the expansion of existing erectile dysfunction drugs to meet the rising demands for treatment of this disease. Besides, approval of new drugs for treating ED disorders by the European Union is also fuelling the market for erectile dysfunction drugs in Europe. Asia Pacific region is also witnessing significant growth rate owing to the unmet health care needs and raised government funding towards research activities. Moreover, changes in lifestyle, smoking, excessive alcohol consumption, and obesity are other factors responsible for market growth. Increasing awareness about erectile dysfunction through various marketing campaigns and CME programs continuing medical education is encouraging people to visit medical professionals and seek treatment for erectile dysfunction and associated problems. These developments are expected to positively support growth prospects in the Asia Pacific region for erectile dysfunction drugs market.
Some of the leading players in erectile dysfunction drugs market include Apricus Biosciences, Bayer AG, Cristália, Eli Lilly and Company, Inc., Pfizer, Inc., Dong-A-Pharmaceutical Co., Ltd., S.K. Chemicals Co., Ltd., Vivus, Inc., Teva Pharmaceutical Industries Ltd., and Meda Pharmaceuticals, Inc. Pfizer, Inc. Competitors are focusing on the development of novel product manufacturing which might show the faster onset of the action which has minimum side effects as compared to the existing therapies. However, in near future, patent expiration of leading brands can increase the competition for generic drugs at cheap prices and give other manufacturers opportunities to come up with their products in the market.