Analysis
Energy management system (EMS) is a system of computer-aided tools used by operators of electric utility grids to monitor, control, and optimize the performance of the generation and transmission asset in real time.Energy management system plays the key role in helping the businesses, industries, and individuals to become more energy efficient. In addition, this system will help them to lower the electricity expenses considerably. Factors like the rising in energy crisis and growth in industries in emerging economies help to impel demand of energy management system.
The key factors which are mainly driving the energy management system market is escalating energy consumption and price volatility. Furthermore, increasing awareness in industrial sectors for the efficient utilization of energy consumption is also fueling the growth of this market. In addition, stringent government policies and guidelines or government intervention over misuse of energy consumption spurs the growth of this market. However, lack of financial resources for new entrant enterprises serve as a major restraining factor which hampers the growth of energy management system market. A long period of return on investment for energy-intensive industries is the poising challenge to the growth of energy management system market.Nonetheless, upcoming smart city project in developing countries and technological advancement such as integration of energy management system with smart devices are offering new avenues to this market.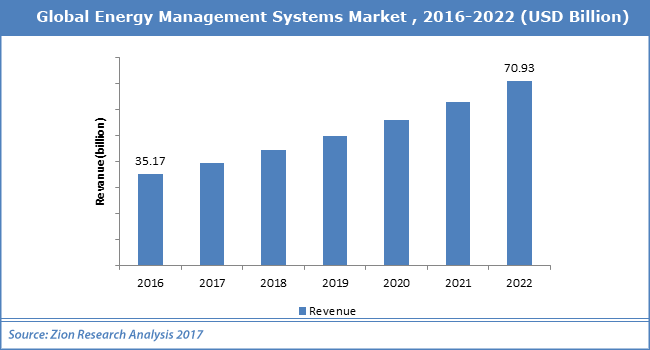 Energy management system is segmented on the basis of utility EMS software, industrial EMS software, enterprise energy management software, residential EMS and others. Utility EMS software is projected to dominate energy management system market over the forecast period. Due to the high penetration of cloud services, declining cost of IoT components, regional government initiatives for smart grid roll-out are driving the demand for utility EMS software on the global scale. However, adopting the utility EMS software is still a challenge in some regions due to poor infrastructure and cyber attacks. Lack of technological awareness regarding privacy & security has raised a number of concerns for the retailers which is hindering the adoption of energy management system solution in the utility industry.
North America held the largest share in energy management system and expected to dominate this market over the forecast period. The government of North America has been actively involved with the energy efficiency management standards for the residential sector.This has pushed the residential energy management market toward the energy management system. Asia Pacific is anticipated to show the fastest growth for energy management system due to the larger population and booming industrial sector, especially in China.
Key market player of the energy management system market is ABB Ltd, Cisco Systems, Inc., General Electric Company, Honeywell International, Inc., International Business Machine Corporation, Schneider Electric SE, Siemens AG, Emerson Process Management, CA Technologies, and Eaton Corporation PLC among others.