Market Overview
The global biometrics as a service market accounted for USD 1.6 Billion in 2020 and is expected to reach USD 3.88 Billion by 2028, growing at a CAGR of 17.9% from 2021 to 2028.
Biometrics as a Service is a service that allows people to be authenticated and identified based on their behavioral and biological characteristics. It provides a solution to ensure that only genuine users can access the services, primarily through the use of facial recognition and microphones for voice capture. Growing demand for cost-effective solutions to access advanced biometrics competences and rising adoption of cloud-based services are two major drivers of the biometrics as a service market.
The increasing security of biometric data stored on the cloud, as well as the integration of biometrics-as-a-service into existing systems, are two factors that could stymie the biometrics as a service market. However, rising e-commerce demand, increased mobile device usage, and increased security awareness are all creating opportunities for the biometrics as a service market to grow in the forecast period.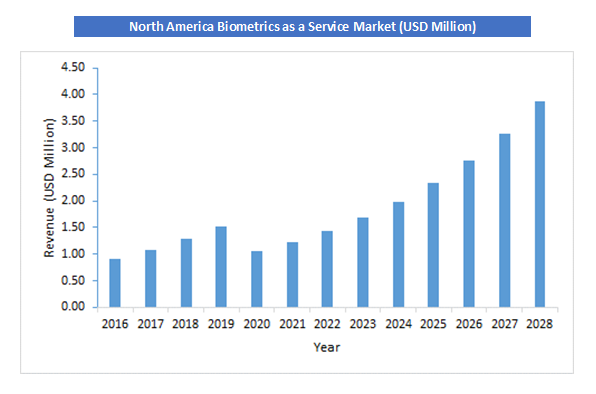 Request Free Sample
COVID-19 Impact Analysis
The outbreak of the COVID-19 pandemic and the global response to it have caused a similar shift in global business. COVID-19 is expected to have a long-term impact as well as some serious short-term consequences. Biometrics, artificial intelligence (AI), and machine learning (ML) are expected to play a key role in responding to this pandemic. Biometrics are rapidly being integrated into infectious disease prevention and control protocols in key markets such as surveillance, border control, law enforcement, healthcare, and biotechnologies.
New screening software is being added to face recognition and surveillance operations to detect people who are not wearing protective masks. In addition, AI algorithms are being updated to overcome the difficulty of correctly identifying people wearing masks. Touchless biometric identification technologies such as facial recognition and iris recognition, according to industry experts, are expected to gain a lot of traction following the COVID-19 pandemic. These technologies have already begun to gain traction around the world, as using touch-based technologies like fingerprint and vein recognition increases the risk of COVID-19 spreading. As a measure to contain the spread of the pandemic, various governments, law enforcement agencies, and other organizations have already abandoned touch-based biometric authentication and adopted touchless biometric authentication technologies.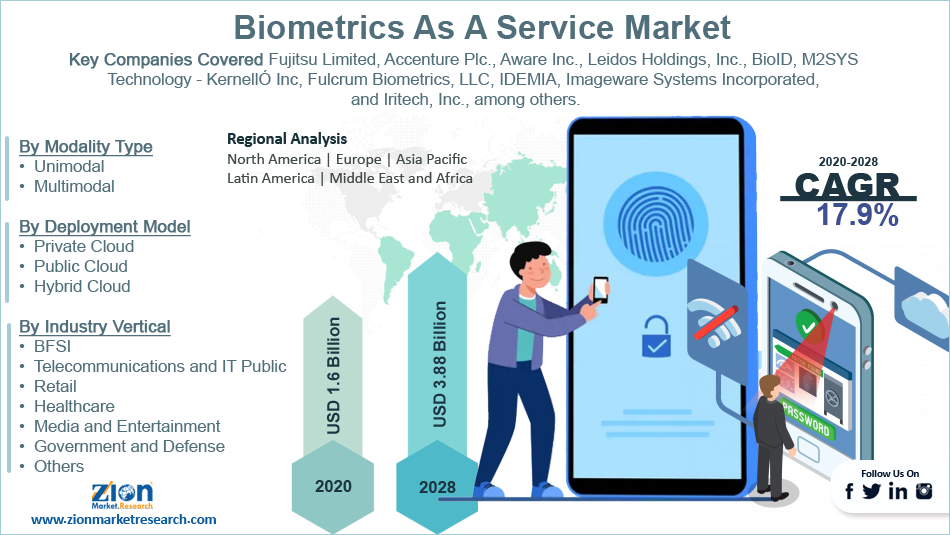 Request Free Sample
Growth Factors
The traditional biometric technique for integrating biometric capabilities into business applications is costly and time-consuming. Biometrics-as-a-Service is a cloud-based platform that combines cloud capabilities and technologies with biometrics infrastructure. This allows for biometric onboarding and authentication on the cloud platform while also removing the costs of the database, network, and storage components. The biometric capture device is the only hardware component required to capture individual biometric input, making these solutions easier to deploy and driving their adoption across various industries. In addition, the majority of biometrics-as-a-service providers provide integration services to assist customers in integrating biometrics capabilities into their existing systems. This reduces the amount of technical resources required to integrate the service even more. Companies are constantly in need of such low-cost solutions, which is driving demand for them all over the world. One of the key factors driving the market's positive outlook is the growing demand for comprehensive authentication systems, as well as the increasing adoption of cloud-based services by businesses all over the world. To combat security attacks and identity theft, both government and private organizations are implementing advanced BaaS solutions.
Global Biometrics As A Service Market: Report Scope:
Report Attributes
Report Details
Report Name
Biometrics As A Service Market
Market Size in 2020
USD 1.6 Billion
Market Forecast in 2028
USD 3.88 Billion
Compound Annual Growth Rate
CAGR of 17.9%
Number of Pages
150
Forecast Units
Value (USD Billion), and Volume (Units)
Key Companies Covered
Fujitsu Limited, Accenture Plc., Aware Inc., Leidos Holdings, Inc., BioID, M2SYS Technology - KernellÓ Inc, Fulcrum Biometrics, LLC, IDEMIA, Imageware Systems Incorporated, and Iritech, Inc., among others.
Segments Covered
By Modality Type, By Deployment Model, By Industry Vertical And By Region
Regions Covered
North America, Europe, Asia Pacific (APAC), Latian America, Middle East and Africa (MEA)
Countries Covered
North America: U.S and Canada
Europe: Germany, Italy, Russia, U.K, Spain, France, Rest of Europe
APAC: China, Australia, Japan, India, South Korea, South East Asia, Rest of Asia Pacific
Latin America: Brazil, Argentina, Chile
The Middle East And Africa: South Africa, GCC, Rest of MEA
Base Year
2020
Historical Year
2016 to 2020
Forecast Year
2021 - 2028
Customization Scope
Avail customized purchase options to meet your exact research needs. Request For Customization
Modality Type Segment Analysis Preview
Unimodal solutions are simpler to implement and maintain than multimodal technologies. Unimodal technologies, on the other hand, are more vulnerable to threats like spoofing and are less reliable than multimodal systems. As a result, these systems are used in industries where high levels of security and reliability are not necessary. These are mostly famous because of their reduced cost and easy availability. Multimodality forms the other type of modality type.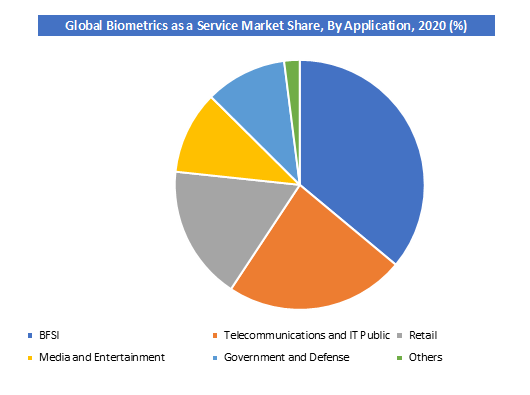 Request Free Sample
Deployment Model Segment Analysis Preview
The market's growth is expected to be boosted by the Cloud Based segment. Cloud-based services typically support upgrades and maintenance services that are either included in a subscription plan or available as a stand-alone service. In addition, integration services with complex enterprise applications account for the majority of service revenues. Hybrid cloud holds the largest revenue and share in market. Private Cloud, and Public Cloud forms the deployment model segment.
Industry Vertical Segment Analysis Preview
In the forecast period, BFSI is expected to be the fastest-growing market. The pressure to provide safe banking services through mobile apps persists as banking service providers invest in mobile app services to operate. Advanced authentication methods, such as fingerprint and two-factor authentication, facial and voice recognition, are used by the majority of banking apps and wallets. Telecommunications and IT, Retail, Healthcare, Media and Entertainment, Government and Defense, and others forms the industry vertical.
Regional Analysis Preview
North America is expected to hold the largest market share during the forecast period because it is a technologically advanced region with a large number of early adopters and the presence of major market players. The revenue growth in this region is being driven by factors such as large-scale funded programs and employee access monitoring in buildings. The rapid growth of online transactions, the rise in advanced cyber-attacks, and high IT security spending are all major factors driving the BaaS market in this region. Furthermore, the use of advanced biometrics in various IoT-based devices in this region has boosted demand for biometrics-as-a-service in this region.
As it becomes technologically equipped through early adoption of new technologies, Asia Pacific is expected to contribute to the fastest-growing region with the highest CAGR of 22.1% during the forecast period. Increased cyber-attacks, as well as the inability of large and small businesses in this region to manage and mitigate the risks associated with identity-related cyberattacks, are driving the trend. The growth of the biometrics-as-a-service market in Asia-Pacific is expected to be influenced by an increase in government investments in biometric projects such as national ID cards and e-passports, as well as the development of smart cities and connected devices.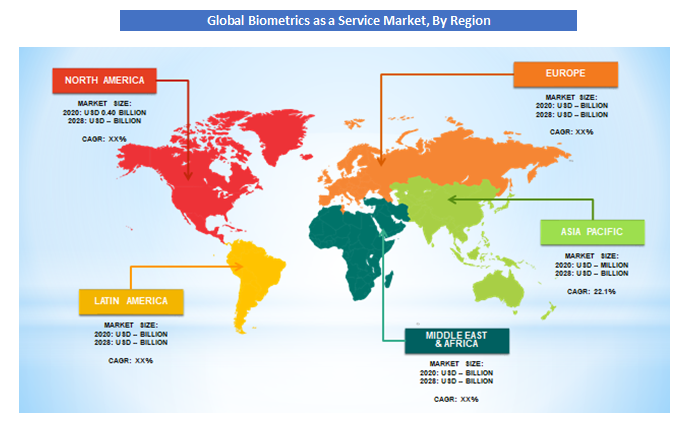 Request Free Sample
Key Market Players & Competitive Landscape
Some of key players of Biometrics as a Service Market are Fujitsu Limited, Accenture Plc., Aware Inc., Leidos Holdings, Inc., BioID, M2SYS Technology - KernellÓ Inc, Fulcrum Biometrics, LLC, IDEMIA, Imageware Systems Incorporated, and Iritech, Inc., among others.
To gain a competitive advantage, these players are increasing collaborations and partnerships among industry participants, as well as various hospitals and research centers. Nuance is a well-known voice biometrics and Natural Language Understanding (NLU) solution provider with a large geographic footprint. Healthcare, enterprise, automotive, and imaging are among the company's segments. It also serves a variety of industries, including finance, government, healthcare, legal, manufacturing, education, and logistics. By partnering with BioCatch, a leading behavioral biometrics solutions provider, the company has expanded its biometrics solution portfolio to include behavioral biometrics solutions. Customers can now get multi-factor authentication solutions thanks to this partnership.
The global biometrics as a service market is segmented as follows:
By Modality Type
By Deployment Model
Private Cloud
Public Cloud
Hybrid Cloud
By Industry Vertical
BFSI
Telecommunications and IT Public
Retail
Healthcare
Media and Entertainment
Government and Defense
Others
By Region
North America
Europe

France
The UK
Spain
Germany
Italy
Rest of Europe

Asia Pacific

China
Japan
India
South Korea
Southeast Asia
Rest of Asia Pacific

Latin America

Brazil
Mexico
Rest of Latin America

Middle East & Africa

GCC
South Africa
Rest of Middle East & Africa