Free Analysis
Endoscopy involves insertion of a thin, long tube into the body in order to observe internal organs or tissue in detail. It can also be used to carry out other tasks including imaging and minor surgery. Endoscopes are minimally invasive and can be inserted into the natural body openings body including anus or mouth. On the other hand, it can be inserted into small incisions, for example in the knee. This is referred to as an arthroscopy. Surgery which is completed via a small incision and assisted with special instruments like the endoscopes is known as keyhole surgery.
Different operative devices in the endoscopy include energy systems, access devices, suction/irrigation systems, operative hand instruments and others. Visualization systems comprise of HD systems and standard definition (SD) systems, ultrasound devices and others. With the increase in the number of minimally invasive procedures, the demand for endoscopy devices is expected to increase in the next few years. Three main types of endoscopy devices involved in the endoscopy procedure include an endoscope, operative devices, and visualization systems.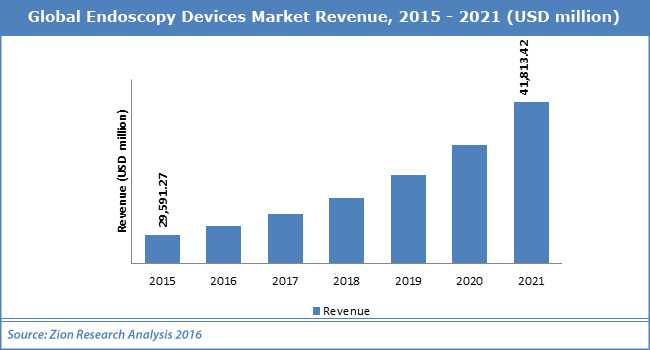 Rising popularity of minimally invasive procedures and escalating prevalence of disorders which needs endoscopic procedures encourage the demand for endoscopy devices. However, lack of skilled professionals is also a major concern for the endoscopy market growth. Thus infections acquired from unsterilized endoscopes and lack of skilled technicians is the major challenge faced by this market.
Different application areas of endoscopy devices include gastrointestinal surgeries, urology/gynecology surgeries, cardiovascular surgeries, ENT surgeries, neuro/spinal surgeries, laparoscopy surgeries, arthroscopy surgeries and others. Laparoscopy segment dominated the global endoscopy devices market and accounted for 22.91% share of the overall market in 2015.
Device type segment of endoscopy device market includes endoscopes, visualization systems, and operative devices. Endoscope segment dominated the overall market with 38.41% share in 2015. The number of annual GI procedures is continuing to grow on the back of the increases in general population, the growing prevalence of digestive disorders affecting all segments of the population, as well as the expanding therapeutic capabilities of the devices. Some of the key gastrointestinal (GI) disorders driving the procedural volume in this market are gastro-esophageal reflux disorder (also known as GERD or reflux), digestive cancer, gastroenteritis, dyspepsia, and gallstones. The prevalence of these conditions is significant and ever expanding
North America prevails over other regions owing to the presence of well-equipped and superior financed healthcare institutions and hospitals, well informed and trained healthcare professionals. Asia-Pacific is expected to grow at the highest CAGR during the forecast period. Ongoing developments of medical imaging devices, rising healthcare awareness and highest contribution towards burden of the majority of the diseases are expected to surge demand of endoscopy devices in this region.
Some of the major players operating in endoscopy devices market include CONMED Corporation, Olympus Corporation, Fujifilm Holding Corporation, Karl Storz Endoscopy, Boston Scientific Corporation, Pentax Medical Corporation, Cook Medical, Inc., Stryker Corporation, Covidien PLC, and Smith & Nephew plc L. among others.