Free Analysis
Organizations worldwide are adopting employee engagement software for improving productivity and retention rate of their skilled employees. This type of software keeps employees informed, collaborative, and engaged with various software tools in the company. The prime motive behind the deployment of software of this kind is to enhance the overall workflow efficiency and employee relationships in the organization. Some main elements of employee engagement software are feedback, progress, and rewards.
Over the last decade, numerous organizations have invested in social business software to enhance communication, innovation, and collaboration among their employees. With the deployment of employee engagement software, it is observed that companies with better employee interaction have witnessed improved productivity. These companies outperformed organizations that do not utilize employee engagement solutions. Many small and medium enterprises are planning to invest in deploying employee engagement software to leverage the productivity of their workforce. Furthermore, increasing use of smartphones has increased the demand for solutions that are compatible with these smart consumer devices. In addition, organizations have experienced decreased absenteeism and increased turnover. Therefore, the rising need for software solutions to enhance communication among employees is significantly driving the employee engagement software market. However, the lack of awareness about the benefits and availability of employee engagement software may hinder the market. Moreover, software developers are primarily focused on developing solutions that are easily compatible with smart consumer devices, which is anticipated to create open new growth avenues for the employee engagement software market in the upcoming years.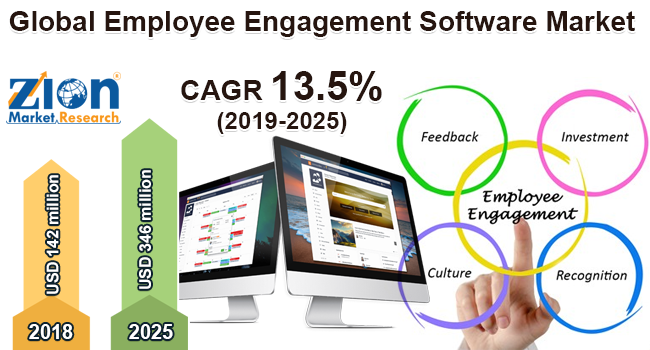 The global employee engagement software market is segmented on the basis of deployment, enterprise size, and vertical. By deployment, the market is classified into on-premises and cloud-based. The rising demand for subscription-based solutions from the users is predicted to support the cloud-based segment in the years ahead. By enterprise size, the market is classified into small and medium enterprises (SMEs) and large enterprises. Large enterprises hold a substantial market share globally, as they highly rely on employee engagement software solutions for various employee-related tasks. By vertical, the market includes IT and telecommunication, BFSI, healthcare, retail, manufacturing, education, government, and others.
Regionally, North America is projected to hold a major share of the employee engagement software market in the future, owing to the early adoption of employee engagement software across myriad organizations. The U.S. is likely to dominate this regional market, owing to the strong presence of large enterprises and the high adoption rate of employee engagement software in the country.
Some key participants operating in the global employee engagement software market are People Gauge, Quantum Workplace, Gensuite, Officevibe, Transcend, Tap My Back, VibeCatch, Qualtrics, KaiNexus, Key Survey, WorkTango, Bitrix, Sparble, Synergita, Pingboard, Vocoli, and Zinta.