Analysis
Electronic warfare is any operation performed via directed energy or electromagnetic spectrum to manage the spectrum, attack enemy, or avoid enemy attacks. The system is also used to sense the radar of incoming missiles and listen to it. The system is crucial and the most important part of the military and defense, as it both attacks and prevents attacks. With rising terrorism globally, the demand for electronic warfare is also accelerating.
The continual developments in the electromagnetic spectrum and regional and international conflicts are major drivers of the electronic warfare market. Moreover, the wide use of electronic and associated tools with weapon systems is also leading to the electronic warfare market development, as it is necessary to detect and counter the attacks. Furthermore, small electronic systems can be integrated with unmanned aerial vehicles and patrol vessels, which is another growth driver of the electronic warfare market. However, the high deployment cost of electronic warfare systems may retrain this market. Nevertheless, this system is accurate, efficient, and reliable, which is a growth opportunity for the electronic warfare market.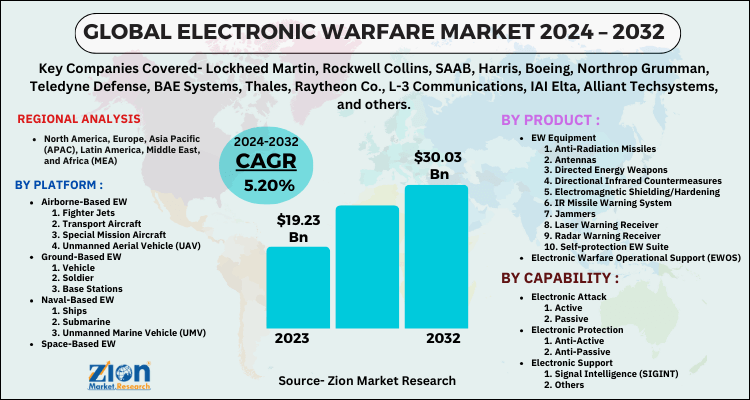 The electronic warfare market is fragmented based on capability, platform, and product. By platform, the market includes airborne-based, ground-based, naval-based, and space-based EW. The airborne based EW segment is expected to grow notably, owing to its rising demand in most of the countries. The system provides a well-developed mechanism that provides strategies for an aircraft, keeping in mind the sections and missions required to penetrate a specific region. Hence, the system supports and enables missions in a diverse range of situations, such as supersonic speeds, densely populated hostile environment, and low altitude flight. All this is driving this segment's growth in the global market. Ground-based EW systems are affordable, easy to hide, and efficient, which is driving their market demand. Moreover, the system continuously scans the area for threat signals and protects the ground forces by alarming them about the situation.
The North American electronic warfare market is anticipated to grow in the future owing to the high adoption of latest tools and technologies and growing counter-insurgency. Moreover, the region has strong defense capabilities that help in achieving the desired effect by operating in specific environments. Furthermore, the region uses electronic warfare to integrate with existing small electronic devices to increase productivity and ensure improved security. The Asia Pacific electronic warfare market is predicted to grow rapidly, owing to high investment in the defense sector and rising initiatives taken by regional governments to develop the existing warfare systems to improve its capabilities during the war or conflict.
Some key players of the electronic warfare market include Lockheed Martin, Rockwell Collins, SAAB, Harris, Boeing, Northrop Grumman, Teledyne Defense, BAE Systems, Thales, Raytheon Co., L-3 Communications, IAI Elta, and Alliant Techsystems.